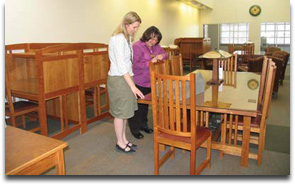 The Yellowstone Research Library serves the park staff, volunteers and members of the general public. The collection consists of books, magazines, articles and pamphlets relating to the history, culture, geology, animals and plants of Yellowstone National Park.
Hours: Appointments are strongly recommended. The Library is open:
Monday

,

Tuesday

,

Thursday

,

Friday

:

9am-4pm

Wednesday:

9am-12pm
except for federal holidays and special closures as noted:
August 5 - limited functions

August 25

September 5

October 10

November 11

November 24, 25

December 26-January 3
Appointments are not necessary, although it is recommended that you utilize the online catalog before coming to the library.
Please note that you will need appointments to have access to the archives and museum collection.
Contact Information:
Librarians:
Jackie Jerla
Jessica Gerdes

Email: e-mail us
Fax: (406) 848-9958
Phone: (307) 344-2264

Mailing Address:
Yellowstone Research Library
20 Old Yellowstone Trail
Gardiner, MT 59030
Collection:
Access. The general collection is open to everyone, free of charge.
Bags and coats must be left in the lockers outside the library.
Patrons may only use pencils in the Reading Room. Pens are NOT ALLOWED.
There is NO public email access in the library.
Food and drinks are prohibited.
Copies of materials. Copyright rules must be observed. Copying from print and microform is available for $.15 a page. Digital photos (without flash) are allowed. Please be aware that fragile items can not be copied.
Research. The library staff is able to perform limited research for patrons by mail or in person. Please allow up to one month for all research requests.
It is recommended that extensive research be done in person.
Online Catalog. Our online catalog is available through:
The Wyoming Library Databases consortium at:
http://wyld.state.wy.us/yrl/
Support the Library
Join the Yellowstone Association. This organization is a non-profit entity cooperating with the National Park Service to advance educational programs, including the library, to promote understanding and appreciation of the park. For more information contact the Yellowstone Association at (307) 344-2293 or visit their website at www.yellowstoneassociation.org.
Donate. The Yellowstone Research Library is always seeking donations to enhance the current collection. Contact the librarians for information about donating documents or other materials, internships and Volunteer Opportunities. The librarians would be happy to discuss internship or practicum with students enrolled in Library Studies programs. Volunteers are always welcome. For more information, please contact the librarians.