Visitor Use Management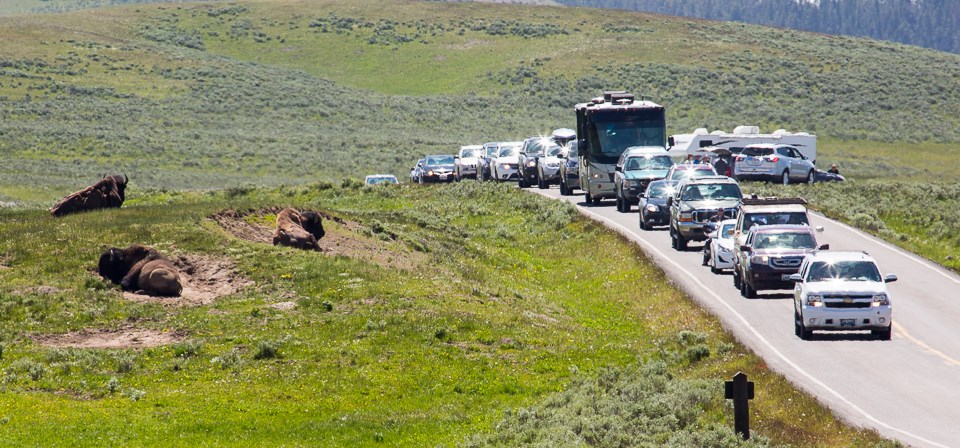 Use by visitors is both a primary reason for the establishment of national parks and a factor in the condition of many of the natural and cultural resources that the parks are intended to protect. While poaching and road collisions have immediate consequences for wildlife, most visitor impacts are less obvious. The long-term consequences of some previous park policies carried out for the presumed benefit of visitors—such as predator control and the introduction of nonnative fish—continue to be evident in the parks today. In addition, ongoing visitor activities and associated infrastructure affect many park resources, including:
air and water quality, and the natural soundscape;
wildlife habitat, distribution and habituation;
the spread of nonnative plants, diseases, and aquatic organisms;
the functioning of geothermal features; and
the preservation of archeological sites and other cultural artifacts.
After exceeding 3 million visits for the first time in 1992, annual visitation at Yellowstone fluctuated between 2.8 and 3.1 million until new records were set in 2009 (3.3 million) and 2015 (more than 4 million). About 70% of the visitation occurs from June through August. Although there are no day use quotas, lodging and campgrounds in the park can accommodate only about 14,300 overnight visitors during the summer, while daily visitation during July 2010 averaged 30,900. Fall visitation has increased since the 1980s and now comprises about 21% of annual use; winter visitation has never been more than 6% of the annual total.
Similar to trends at other western parks, overnight backcountry use in Yellowstone peaked in 1977 at more than 55,000 "people use nights" (the total number of nights spent in the backcountry). Since the mid-1990s backcountry use has remained fairly steady, ranging between 37,000 and 46,000 person use nights annually.
Yellowstone provides a place where people can glimpse primitive America. A place where humans share an open landscape with thousands of wild animals, including bison, bears, elk, and wolves. A place where a volcano's hidden power rises up in colorful hot springs, mudpots, and geysers. A place where people can see all of these things with relative ease thanks to a road system that connects five entrances with many popular destinations.
And more and more people want to experience it.
Since 2008, annual visitation to Yellowstone has increased by more than 40%, causing overflowing parking lots, a rise in traffic jams, roadside soil erosion and vegetation trampling, and unsanitary conditions around busy bathrooms. Half of this increase in visitation occurred in just two years (2014 to 2016), coupled by an even greater rise in motor vehicle accidents (+90%), ambulance use (+60%), and search and rescue efforts (+130%). Meanwhile, staffing levels and funding have remained flat over the last ten years (see graph below).
The National Park Service mission requires us to provide people the opportunity to enjoy Yellowstone without allowing that enjoyment to damage or diminish the very things they came to see. Many visitors want a park with fewer people and less traffic, but they don't necessarily want limits on visitation or the use of private cars in the park.
The challenges posed by high levels of summer visitation and changing visitor use patterns are comprehensive, complex, and affect not only Yellowstone visitors and employees, but gateway communities, surrounding public lands, and other national and regional stakeholders. Difficult decisions lie ahead, and we'll need your help to find compromises that balance the protection of resources with a shared desire to experience the world's first national park. As we move forward in our efforts, we'll be reaching out to the public, our partners, and nearby communities to get involved. We want to listen to all ideas about managing Yellowstone's visitation.
Preparing for the Future
Yellowstone has not begun a formal planning process for visitor use management. The park has been working to understand the impacts of increasing visitation on park resources, on employees and operations, on the visitor experience, and on gateway communities. We're focusing our efforts in the near term on how we can improve our own operations to protect resources and provide a better visitor experience in key congested areas. If visitation continues to rise, future management strategies could include (but aren't limited to) communication and traffic management systems, shuttle systems or other transportation alternatives, and reservations or timed-entry systems at specific sites where demand exceeds capacity.
Below are details about past and current work that will help the park gather the data it needs to address visitation challenges and inform future management strategies.
Upcoming Work
2019 Pilot Projects
Employees will continue to test ideas intended to improve visitor flow and safety at various locations in the park, such as visitor drop-offs, traffic management, and a pedestrian trail to improve parking and safety at Norris Geyser Basin. Pilot projects that were successful in 2018, such as a three-way stop at Mammoth Junction or one-way pedestrian flow at Midway Geyser Basin, will likely be continued.
2020 Visitor Use Study
In the summer of 2020, researchers will survey people's opinions about potential scenarios that could be used to manage visitation in the future. Participants will consider "trade-offs" and will be asked which scenarios they prefer in given situations (examples could include shuttles systems, parking reservations, and various kinds of managed access).
Past Work
Visitor Use Studies
Visitor Use Study (2016): The park commissioned a survey of summer visitors to better understand who's coming to Yellowstone, how they plan their trips, what they come to see, their perceptions of the park (including attitudes about access and transportation), and their level of satisfaction with park services and facilities.
Visitor Use Study (2018): Researchers conducted a study to explore how people experience and move through the park in real-time and how their experiences vary across the season (May-September). Surveys were conducted in-person at various attraction sites and via digital tablets distributed to a random sample of park visitors. Researchers set up "geofences" around various areas in the park that triggered a survey on the digital tablet as the visitor passed through that location. Surveys were conducted May 19-26, June 9-16, July 7-14, August 18-25, and September 15-22 in 2018.
Visitor Use and Behavior at Attraction Sites Study (2018): Youth Conservation Corp Crews monitored numbers of people, how they use the area, and if that use is causing resource impacts. This monitoring occurred at Old Faithful, Midway Geyser Basin, the Fairy Falls trail to the Grand Prismatic Overlook, and Norris. Appendices.
Transportation Studies
Pilot Projects (2018)
Employees began testing ideas intended to improve the movement of cars and people at various locations in the park. Projects included implementing one-way pedestrian flow around the Grand Prismatic boardwalk, changing the hours of the Boiling River and limiting parking in that area, creating a drop off/pick up point for visitors in the Norris Geyser Basin, and making Mammoth Junction a three-way stop to prevent congestion when people wait to make left turns.
Wildlife Jams (2018)
Employees worked with University of Montana students to examine how humans and animals interact with one another at wildlife jams along park roads.
Visitor and Employee Safety (2018)
Two graduate students from the NPS Business Plan Internship program worked with the park to study the relationship between increasing visitation, human safety, and impacts on employees and operations in the Resource and Visitor Protection Division.
Resource Damage
Employees monitored the creation and expansion of social trails, which are unwanted and unofficial trails made by visitors that damage soil and plants.
Last updated: September 19, 2019