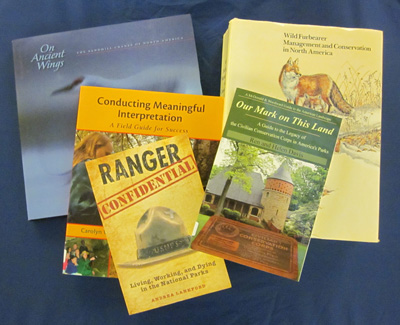 In the last blog post from the library, we talked about some of our new books. For the most part, the books are things that our patrons have requested. If we don't already have a book in our collection and somebody asks for it, we add it to our wish list. Some examples of requested books are described below.
Our Mark on this Land by Ren and Helen Davis
The Civilian Conservation Corps (CCC) is a popular subject here at Yellowstone. There were twenty-eight camps located in Yellowstone and the boys and men from those camps helped to do a lot of projects. This book is an overall look at the entire project, nationwide but it does include a lot of mentions of Yellowstone National park and the work done here.
Conducting Meaningful Interpretation by Carolyn Widner Ward and Alan Wilkinson
Sometimes staff request books that don't talk specifically about Yellowstone but may be important for learning in their jobs. This is just one example. There are dozens of new interpretation rangers that start in Yellowstone each summer. Not all of them have done interpretation before. This is a great book for both them to find theories and techniques behind leading short tours or talks for all levels and ages. It even has some helpful hints for people who have been doing this job for a long time.
Wild Furbearer Management and Conservation in North America [Many authors]
Though a bit dated, this book still proves invaluable to people doing research on any of the mammals in Yellowstone. It is a book well used by animal managers. Topics that it covers include management and conservation, natural and human-induced effects on furbearers as well as in-depth discussions on many species.
On Ancient Wings by Michael Forsberg
The sandhill crane is just one of the many bird species that makes Yellowstone Park its home at least part of the year. This book looks at all of the many habitats of the crane as well as its history. The crane has had to adapt to many weather conditions over hundreds of years and continues to do so, even today.
Ranger Confidential by Andrea Lankford
The general public is often fascinated on behind-the-scenes stories and this book provides that for working as a ranger in the National Park Service. This book was requested because Andrea worked here in Yellowstone (even though most of her time was spent in Yosemite and the Grand Canyon). Most of the stories are about her own experiences but she includes some from other people as well.