In a lead up to that most romantic day of the year, February 14th, we will be continuing William Popham's 1911 book, "Yellowstone Park Romance." To read the whole story, visit https://www.nps.gov/yell/blogs/museumblog.htm Images are taken from the Yellowstone Park Museum. They may not have been taken in 1911 but we hope that they help to illustrate the author's wonderfully descriptive prose. Please note that many of the practices the author writes about (including feeding the animals or tramping near certain features) are no longer allowed today.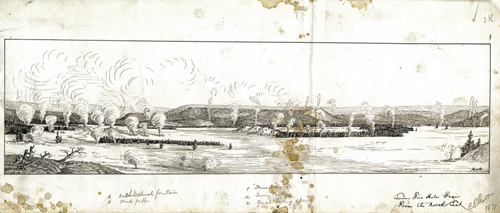 DEDICATION
______________________
To Yellowstone—the world's greatest Eden and "show ground," and the warm-blooded, Nature-loving, romance-craving roamer, whose heart is tuned in harmony with the sweet-voiced, free-winged wildwood singers—the roamer who perceives heaven painted in the dew-drop, and finds a fountain of youth-giving life in woods and valleys and hills and mountains, and who finds a home there among beneath sky and stars; who seeks the pure, sweet air where cool, thirst-quenching waters flow, and rock-bottom streams sing and laugh and babble—where lakes mirror the sky-heaven in their smiling faces, flowers grown unsown, bloom unharmed, and die to bloom again; where God's own hand makes the saddest landscape divine, whether in downy snow, or sparkling ice-gorge, or fragrant spring, or glorious summer, or color-giving autumn; where sun-loving, water-loving, shade-loving, air-loving plants and grass and buds and trees and vines make a garden of the wildwood—for lovers not only human, but mated birds, big and little animals whose life is sweet to them as life is to us; where the earth's heights and depths and flats and slopes are replete with God's wild blessings—wild music, wild flowers, wild tame-eyed beasts and fowls and varmints, and wild honey; where beautiful, unique, peaceful, quiet, restful, sun-kissed, shade-cooling, balmy, breezy, care-killing scenery abounds; to the roamer who truly loves these and God's carpet, the grass; God's cover-lid, the sky; God's park, the virgin glen and fields,
THIS VOLUME IS RESPECTFULLY
DEDICATED
Today's image, "Hot Springs on Gardiner's River (Seen from Mountains at the Fork of Gardiner's River)/Elliott - 1871," is from one of the first park roamers, the official artist of the 1871Hayden survey, Henry Wood Elliot. The original pencil drawing is located in the Yellowstone Museum, catalog number YELL 813.