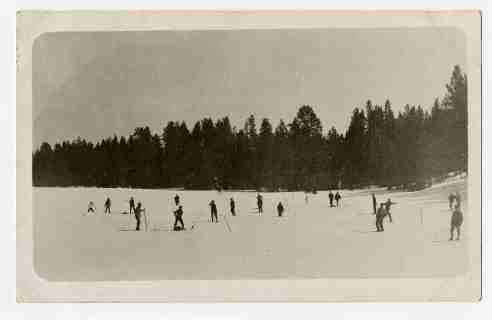 Today's picture (YELL 89291-2) is a view of the construction of the Canyon Hotel in 1910, just a year before Clara and RuDell came into the park. Here you can see construction works playing ball on skis. The wintery weather is probably similar to the coldness RuDell feels upon receiving a rejection letter from his love. Will they find true love? Find out in tomorrow's thrilling conclusion.
CHAPTER X.
            Nearly a fortnight had passed since posting the letter of proposal to Clara, when RuDell received the following:
            Dear Sir: — Yours of recent date to hand. In reply, I beg to state that the matter to which you refer, has been attended to by another man.               Very truly,
                                                                                                CLARA DENHART.
            RuDell laid the scented sheet aside with misty eyes and a broken hope. His peace of mind was taken from him — while nothing of the golden romance was left but memory. Realizing the agony of the sudden end to which his courtship had come, he thought of their happy past
— their beautiful days together in Yellowstone, the several sweet letters he had received from
Clara's hand, and of all the rapture of companionship he had hoped those letters foretold; and with a sigh, he leaned his head upon his hands. He did not weep visibly, for fate had stricken him with sorrow too deep for tears. The lilac trees were blooming beneath a sky of perfect blue, but RuDell saw nothing, heard
100
nothing, felt nothing, save the sting of disappointment. Each hour had suddenly become a blank — a maddening treadmill to be endured. The girl he loved, it seemed to him, had vowed to love another man. RuDell could, for the first time in his life, truly sympathize with the old- fashioned, but celebrated lover, Washington Irving, who, on the death of his sweetheart (Matilda,) wrote: 
            "The ills I have undergone in this life have been dealt out to me drop by drop and I have tasted all their bitterness. I saw her fade rapidly away, beautiful and more beautiful and angelic to the very last. I was often by her bedside, and in her wandering state of mind she would talk to me with a sweet, natural and affecting eloquence that was overpowering. I saw more of the beauty of her mind in that delirious state than I had ever known before."
            While Clara still lived, she was to RuDell as one dead, for he thought that he should never more look upon her sweet face, never more see
101
her dreamy blue eys (sic), nor hear her soft, shy voice. He felt that he could be happier if she were dead, and her spirit borne away to the fair land where there are no partings.
            It seemed that their brief dream of happiness was over. The roses of love had fallen before they were full-blown. There would be no summer-time. Every hope crept away on stealthy footsteps.
            Now he could only cling to the memory, and hug the brief flower-time in his hungry arms. But he was consoled that to Clara he had been frank, honest and faithful.
            So poignant were his memories he could not speak. In a moment he arose and silently slipped from the room — and then into the great out-doors — into God's open fields. The golden summer had changed into the deeper golden autumn.
Among the trees on a spot free from under-brush were some rustic seats, and a natural grape-vine swing. The seats were placed there
102
as if for lovers. He had thought that the mutual love of himself and Clara was as strong and constant as ever a love could be; nothing could have diminished it or caused it to waver. It was rooted in a full knowledge of each other's character, and a regard that had grown out of that knowledge.
            He walked so far that when he returned the moon was high and full and all the world was purple in shadow and silver. The stillness of lake and shore and wood was so wonderful that he did not go into the villa he lived in. He walked down to a little bowered terrace at the water's edge and sat upon a seat and breathed in all the heavenly scents of the night. He felt the strange calmness stealing over him, and it grew deeper and deeper until he fell asleep.
            He did not know when he fell asleep and when he began to dream; his dream was so real
that he did not feel as if he were dreaming. He remembered afterward how intensely wide
awake and alert he had thought he was. He
103
thought that as he sat and breathed in the scent of the late roses and listened to the lapping of the water at his feet, he heard a voice calling. It was sweet and clear and happy and far away. It seemed very far but he heard it as distinctly as if it had been at his very side.
            The voice in his dream was the sweet voice of Clara, but now that it was only a dream, it haunted him. As he walked on and on until the village and the lake were left far behind, and he was alone with the sky and the sand, the numbed feeling in his heart gradually left him, and his power of suffering came back. Blindly he stumble on in the darkness, unheeding the distance he had traveled.
            Dawn succeeded night, and sunset was followed by darkness again; but RuDell was oblivious of the changes.
104
In a lead up to that most romantic day of the year, February 14th, we will be continuing William Popham's 1911 book, "Yellowstone Park Romance." If you do not see any new posts, you may need to refresh your browser page. Images are taken from the Yellowstone Park Museum. They may not have been taken in 1911 but we hope that they help to illustrate the author's wonderfully descriptive prose.Please note that many of the practices the author writes about (including feeding the animals or tramping near certain features) are no longer allowed today.