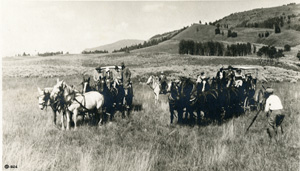 YELL 127706 is a view of two 4- horse carriages loaded with passengers. Taken in 1926, this picture's setting is probably the Lamar Valley. If you look closely, there is a man with a tripod and camera. It is possible this is the filming of "The Thundering Herd."
CHAPTER VIII.
A golden year had passed since the romance began—a year in which love's dawn had brightened into the fullness of day.  Many had been the letters that had passed between these two hearts—Clara and RuDell.  He had met her in the beauty of her youth, and in that memory, should they never chance to meet again, she will ever be young and beautiful in his romantic dream.  He loved Clara from the first meeting of their eyes; loved her with a lasting love—as every woman longs to be loved—a love inspired by one woman's flower heart—a love in which live smiles, kisses, heart-throbs, and tears.  In the maturity of manhood, he had learned that to love is really to live,—and their romance proved as strong and pure as any that has lived in the annals of countless lovers.  The radiant reality of romance was like a heavenly beacon guiding his steps and drawing him toward what is noblest, best, and most worth while in life.  It is yet time for the world to know and honor
83
Kendric RuDell and praise his career—because all the world loves a lover.  In every career of exalted, manly character, there lie hidden the influence and the love of a good woman.
Sometimes she is strong and inspiring, like a fresh west wind, and sometimes she is sweet and fair, like a cloudless day in June.  Love inspires the smiles that live in the wrinkles of the face; and a lover who has a broad understanding of human nature, eventually learns that a smile upon the face he loves, will eradicate his tears of weariness, anxious longing and wild unrest.  Tho far from the girl of his heart, RuDell lives in the dell of memory.  He sees Clara smiling in the bright moontide of another day; sees her graceful step full of youth, life and maiden-glory; sees her among the late-blooming flowers of the drowsy Indian summer—when the goldenrods seemed stealing color from the sunbeams that kissed her chestnut-brown hair; her wonderful, dreamy eyes, and gems of ocean-blue or stars in turquoise skies—the large and lustrous 
84
eyes of a fairy-like maiden, whose little hand once rested in his while roses stole into the cheeks of each.  The memory had become sacred, made so by the alchemy of love and absence.
Clara was the lure of RuDell's love-light—that undying love-light in his blue-gray eyes that told her at their first meeting and at the parting—told her more than words could tell—the message of his heart.  She, it was, who inspired in him that finer courage, and bade him hope against fear, and who taught him to be brave and true.  The more he thought of Clara, the stronger became his attachment; the more he saw of her, the more reason he found to love her, and the stronger became his bonds; the longer their association the more her mind seemed to unfold itself leaf by leaf, and at each unfolding to disclose new sweetness and new virtues.
It was a sweet life—this life of theirs, so flavored with a holy love in a world of romance.  He
85
had met her when summer and autumn were shaking hands and while she was yet at the crossing where girlhood and womanhood meet.  All the lustre and freshness of youth, which the magic of the painter's brush never quite catches, were yet hers.  Her cheeks held the everlasting bloom that lies beyond the barriers of the spring.  In the drowsy twilight, in the glorious gloaming, in life's most glorious hours—they had caught the tint and glow which come only from drinking freely from the chalice of health and happiness.  While the daffodils yellowed the landscape and slender lilac trees were blooming, under the tall pines of the beautiful west, by the blazing hearths of pleasant inns, in southern climes, in the open night under the silver stars, in the dew-kissed fields of early morn, along shady brooks musically murmuring, in crowded streets or meadows of solitude—everywhere a tourist might roam, RuDell was living in love's rosy dream—a dream of Clara far away in the suburbs of a western city, where
86
the small vine-hung cottage, her birth-place and present home, she was living her quiet hopeful life.  It was under the kindly influence of the south-western clime that RuDell was wandering in a wonderful valley—thinking, as only lovers thinks, of the absent fair one.
He had been walking alone thru such beauty as might have lifted any man's soul out of shadow.  But he had walked a long way and it had not lifted his.  At last he had felt tired and had thrown himself down to rest on a carpet of moss by a stream.  It was a clear little stream which ran quite merrily along its narrow way thru the luscious damp greenness.  Sometimes it made a sound rather like very low laughter as it bubbled over and 'round stones.  He saw birds come and dip their heads to drink in it and then flick their wings and fly away.  The stream seemed like a thing alive, and yet its tiny voice made the stillness seem deeper.  The valley was very, very still.
87
As he sat gazing into the clear running of the water, RuDell gradually felt his mind and body grow quiet, as quiet as the valley itself.  He wondered whether he were going to sleep, but he was not.  He sat and gazed at the sunlit water and his eyes began to see things growing at its edge.  There was one lovely mass of blue forget-me-nots growing so close to the stream that its leaves were wet, and at these he found himself looking, as he remembered he had looked at such things years ago.  He was thinking tenderly how lovely it was and what wonders of blue its hundreds of little blossoms were.
It was as if a sweet clear spring had begun to rise in a stagnant pool and had risen and risen until at last it swept the dark water away.  But of course he did not think of this himself.  He only knew that the valley seemed to grow quieter and quieter as he sat and stared at the bright delicate blueness.  He did not know how long he sat there or what was happening to him, but at last he moved if he were awakening,
88
and getting up slowly he stood on the mossy carpet, drawing a long, deep, soft breath and wondering at himself.  Something seemed to have been unbound and released in him, very quietly.
The next moment, with fountain pen and tablet at his command, he began this letter:
"My dear Clara:—While waiting for the regular answer to my last letter, I cannot refrain from writing again.  I am in a beautiful valley where the old lilac bushes—as tall as saplings, are rich with purple bloom, and where there are a thousand dancing blossoms and sweet odors, a rendezvous of birds, and bees, and butterflies—a glad blaze of colors more glorious than those of all the stained-glass windows of the cathedrals of the world.  Methinks that the combined beauty of all the valley's beautiful life is but a fraction of the beauty of your soul, and of your dreamy eyes which reflect so much of your soul's beauty.  Today, even more (if possible) than ever before, my heart is longing for you.
"Dear Clara, too long have we lived apart,
89
too lonely have been our lives. For a whole, long year I have lived on dreams and hope and thoughts of you and our happiness yet to be. Will hope never blossom into fruit! Will dreams never come true? Will happiness never dawn? The hills over which I ramble, and the valleys in which I rest and dream, seem only to bring thoughts of you. The year since our acquaintance began, has been short and sweet to me here among the glorious green hills, the roses and lilies, the larkspurs bluer than northern seas, and the singing brooks, whose songs have been ever of you. Dear Clara, I am asking you to make my dream come true — to share life with me in a new home — to be built where and how you like. To me, it matters little, where — but the when is quite material. My soul is hungry, and naught on earth or in heaven can satisfy the longing, save the union of your life and mine. As you do not doubt my ability to support a wife and a home, and as you already know me, almost better than I know myself, I will neither
90
enumerate my possessions of earthly goods nor mention my future prospects. I promise to do all in my power that would make you a happy wife and ceaseless bride; for you know that I believe every wife should remain a bride.
            "Needless to say, dear Clara, how anxiously I shall await your reply. Upon your answer is hinged all my present and future earthly happiness. With my heart in your careful keeping, I wait, I hope, I pray, and with my whole love I crown you. Will you retain the crown, my dearest? With all a man's love, I am forever and affectionately yours,
                                    "Kendric RuDell."
            "P. S. Dear Clara, please expect my visit soon after your reply — if favorable.
                                    RuDell."
91
In a lead up to that most romantic day of the year, February 14th, we will be continuing William Popham's 1911 book, "Yellowstone Park Romance." If you do not see any new posts, you may need to refresh your browser page. Images are taken from the Yellowstone Park Museum. They may not have been taken in 1911 but we hope that they help to illustrate the author's wonderfully descriptive prose.Please note that many of the practices the author writes about (including feeding the animals or tramping near certain features) are no longer allowed today.