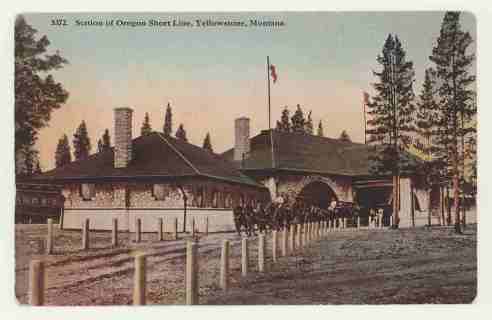 Though Haynes is probably the best known purveyor of Yellowstone postcards, this one (YELL 14925) is from the H. H. T. Co., also known as the H. H. Tammen Co., out of Denver, Colorado.
CHAPTER VII.
Having completed their visit in Yellowstone the sixth day of wonderful sight-seeing, the company of tourists reached Yellowstone at seven p.m., where they immediately boarded the Oregon Short Line.
Having cast their last glance at the surroundings, the lovers—Clara and RuDell—found a seat together near the middle of the coach.  Having bade farewell to the rustic little tent in which they met, and which had since been a holy memory, the twilight seemed to brood sadly over the close of their parting-day.
In a brief apologetic manner, RuDell told the girl that he was not an author and had not intended writing a book.  Having corrected this misconception, he felt that he could part with more ease of conscience, and in the spirit of truth that makes one free.
He was a man of solid principles, careful to live up to the standard he had placed for himself, but not exacting perfection from others;
79
on the contrary, he was generous-minded and gentle.
"May I ask your forgiveness for having failed to make this correction sooner?" he pleaded.
"Mr. RuDell, we part in peace and perfect goodfellowship, you owe me no apology."
Saying this, Clara smiled at him with the utter frankness of a child; and again he was conscious of a fullness of sympathy and life in her.  Consciously, they were entering upon that period in every heart history where every sentiment of a woman, however glorified, is mixed with sadness, and every emotion of the man is awakened.  Like the twilight of a glorious, grand day, would soon come their parting.  Each seemed to feel that their recently begun companionship had almost become a necessity to both.  Perhaps it was the sudden awakening of an ardent and imaginative temperament, but sweeter in the memory of their recent but constant association, 
80
than the parting.  But captivated by the romance, each had indulged these dreams.
Having mutually agreed upon a regular correspondence, life still kept sweet with a hope of the future.  It is doubtful whether the two lovers fully recognized the scenes en route, for the ride in itself is enough to arouse one's enthusiasm.
After a comfortable evening, en route, RuDell and Clara had deserted their berths in the sleeper, and were again seated together; but only for a brief time as at Ogden they must part.
Having reached the depot, the lovers stood for a moment, shoulders touching, hands clasped, with the breath of the strange land in their faces.  Love seemed temporarily to arouse every tender emotion in them.
At last Clara turned uncertainly: "Good-bye," she said.  Then he faced her.  There was no time for lingering in conversation, for promises or questions.  He knew only that they were about to separate, and the emotion that consumed him was reflected in his eyes as he gave
81
her little hand a firmer clasp, and while yet holding it, placed a piece of paper, evenly folded, in her other hand.
"Not farewell—but good-bye," he murmured, as they parted.  When she was seated to herself in the car, Clara hastened to read the note which read as follows:
"My dear Miss Denhart: This is to express the love that my tongue found not the courage to undertake.  'Tis sad to part—but would be sadder still, if we should never meet again.  As life is uncertain and death is sure, I could not refrain from having you know my love in our parting.  Love, for me, is life, and around you my thoughts are clinging.  It is only the last love of a woman—however much her experience—that can satisfy the first love of a mature man.  'It is with narrow-souled people as with narrow-necked bottles; the less they have in them the more noise they make in pouring it out.'
"Hence my brevity.  As per previous promises, please expect a letter from me in the near future.  I have the honor to remain your loving friend.
Kendric RuDell."
82
In a lead up to that most romantic day of the year, February 14th, we will be continuing William Popham's 1911 book, "Yellowstone Park Romance." If you do not see any new posts, you may need to refresh your browser page. Images are taken from the Yellowstone Park Museum. They may not have been taken in 1911 but we hope that they help to illustrate the author's wonderfully descriptive prose.Please note that many of the practices the author writes about (including feeding the animals or tramping near certain features) are no longer allowed today.