This is part of a continuing series that started with the post Fictional Yellowstone -- Adult Mysteries.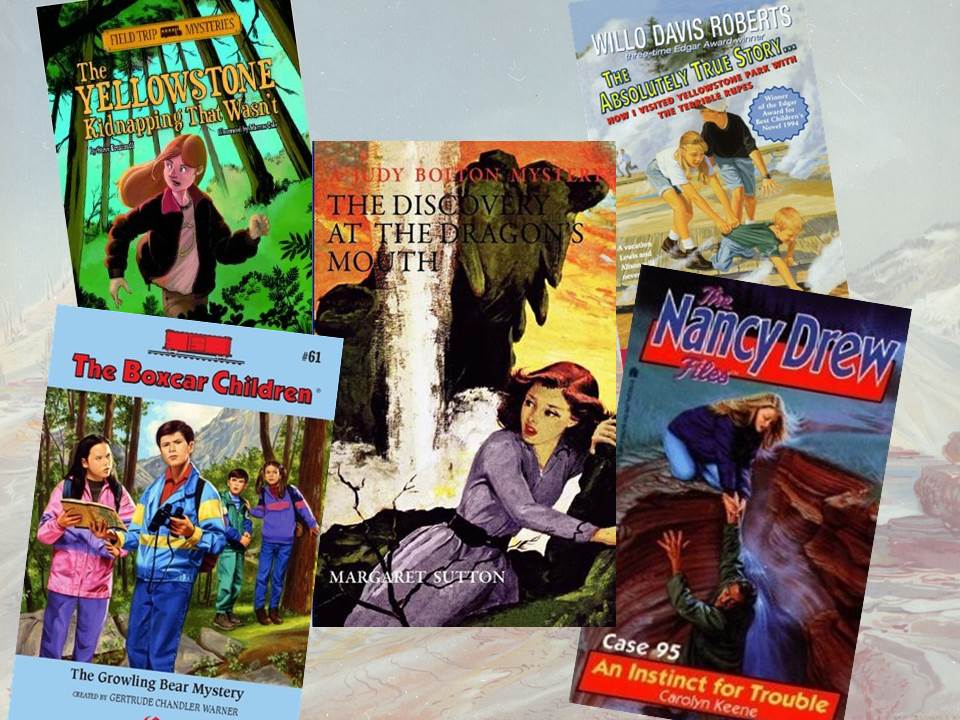 There are many mystery books for adults set in Yellowstone but there are also some great books for those of us not yet ready to read a longer book.
This selection kicks off with The Discovery at Dragon's Mouth by Margaret Sutton whose girl-detective Judy Bolton's trip with her husband Peter is nearly cancelled when he's called away by his work for the FBI. But it's Judy and her sister-in-law (who ends up joining Judy on her trip across the United States to visit Yellowstone) who end up cracking a smuggling ring.
But Judy Bolton wasn't the only girl-detective to visit the Park. Nancy Drew, also visited Yellowstone in An Instinct for Trouble by Carolyn Keene. She and Bess are visiting Ned who is doing research through Emerson University on the marmots in the park. Unfortunately, things with the study have been going wrong and now one of the researchers has been injured. It's up to Nancy to come in and sort out what's going on.
Willo Davis Roberts won her third Edgar Award with The Absolutely True Story… How I visited Yellowstone Park with the Terrible Rupes (now re-issued as Surviving Summer Vacation, a much easier title to remember). Twins Alison and Lewis think that a summer vacation to Yellowstone with their new neighbors will be a ton of fun. But their hosts don't seem to have much interest in the children, whether it's their nutrition or manners. And they really don't seem concerned that their son, Billy, keeps pulling hundred-dollar bills out of their rented motorhome. Which might explain the two strange men following them…
The Boxcar Children, Henry, Jessie, Violet, and Benny, have a little more fun on their Yellowstone trip The Growling Bear Mystery. They get to go hiking, volunteer at the Old Faithful Inn, and solve a centuries old mystery involving a sack of gold nuggets.
Another group of children, sixth-graders this time, come to prevent The Yellowstone Kidnapping that Wasn't, part of the Field Trip Mysteries by Steven Brezenoff. Sam, Gum, Egg, and Cat go on a trip to Yellowstone for a weekend of adventure and mystery. When the superintendent's son disappears, it's up to Sam and her friends to figure out what's happened.
Do you have any favorite children's books set in Yellowstone? Comment below!