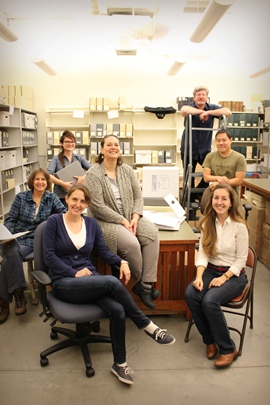 Archives Blitz Team 1, September 2014.
As I skimmed through my e-mails, this one caught my eye: "Yellowstone National Park is
seeking five graduate students (or recent graduates) to volunteer in the park's archives for five days." As I'm sitting at my desk at the National Park Service Washington Office (WASO) in Washington, D.C., I imagine myself hiking through the first national park. Maybe I would actually see wildlife in person, instead of just from a "live cam" on my computer. Maybe I would see a part of the country I have never seen before. And most of all, maybe this position will give me experience to work on an innovative project in my field of study: Archives.
As a Library and Information Science (Cultural Heritage Information Management) graduate student studying at Catholic University in Washington, D.C., this position sounded perfect. It was nothing like I've done before. I constantly hear how archival institutions are understaffed, underfunded, and have huge backlogs. And maybe this one-week "Archives Blitz" project is the answer to process hidden collections. This innovative program is not only a great resource for the institution, but it provides great experience for archivists.
After having experience working in several archival institutions in Washington D.C. (including the National Park Service), I was ready to get out and see how archival institutions operate in a different part of the country. When I arrived at the Yellowstone Heritage and Research Center in Gardiner, Montana on the first day of the Archives Blitz, I had no idea what to expect. Five of us were chosen from various places across the country to work as a team processing an archival collection. All of us have previous experience in processing, but this was the first time, for most of us, to process a collection in a one-week "blitz" setting.
After the dust settled on the first day, literally, we were assigned to tackle our own segment of the collection. We were working with the Interpretation and Public Affairs records. The series I was assigned to included photographs, slides, negatives, and film. Throughout the Archives Blitz, I had to constantly remind myself that this is a one-week blitz, and we should not process at the item level. Our moto of the week was the well-known archival phrase, "More product, less process."
Throughout the Archives Blitz, we went through the several stages of archival processing: arrangement, appraisal, preservation, and description. With the help of the Yellowstone Archivists, Anne Foster and Shawn Bawden, we were able to better understand the collection in order to make processing decisions. We came across several unknown and unique items, such as, a Yellowstone telephone directory from 1939 and historic photographs dating back to the early 1900s. In the end, we processed 145 linear feet, moved the boxes to the permanent storage area, and even finished ahead of schedule. Now the Yellowstone Interpretation and Public Affairs records will no longer be hidden away unprocessed, but they will be available to the public.
This Archives Blitz project was a huge success. Not only did our team come away with a better understanding of archival processing, but we all quickly became good friends. Working on the same project and staying in the same house together made our group a better team. When we were not processing the collection, we spent our free time going to ranger talks, cooking dinner, playing charades, and having musical jam sessions. Besides for a scary encounter with an elk, the whole week went smoothly. I am grateful to have been a part of the first Yellowstone Archives Blitz team, and I wish the best of luck to the future Archives Blitz teams!