In the days of Fort Yellowstone (1886-1918), drinking was not permitted on any military grounds.  Violation of this rule could result in fines or imprisonment, though not for more than a year.  Additionally, if a soldier was found drunk at his post, he could have been punished by depriving him of passes to visit Gardiner, the nearest town, for a month.
As a result of these rules, records and stories seem to indicate that many army soldiers would make the walk from Fort Yellowstone, located at Mammoth Hot Springs, to Gardiner for a drink and some company.  Reportedly in 1883, Gardiner had 21 saloons and 4 houses of ill-fame, not to mention a billiard and dance halls.  A visitor to Gardiner in 1889 wrote that, of the 32 houses in the town, 28 were saloons.  For a small town to support 28 saloons, there was likely an ample amount of alcohol consumption occurring.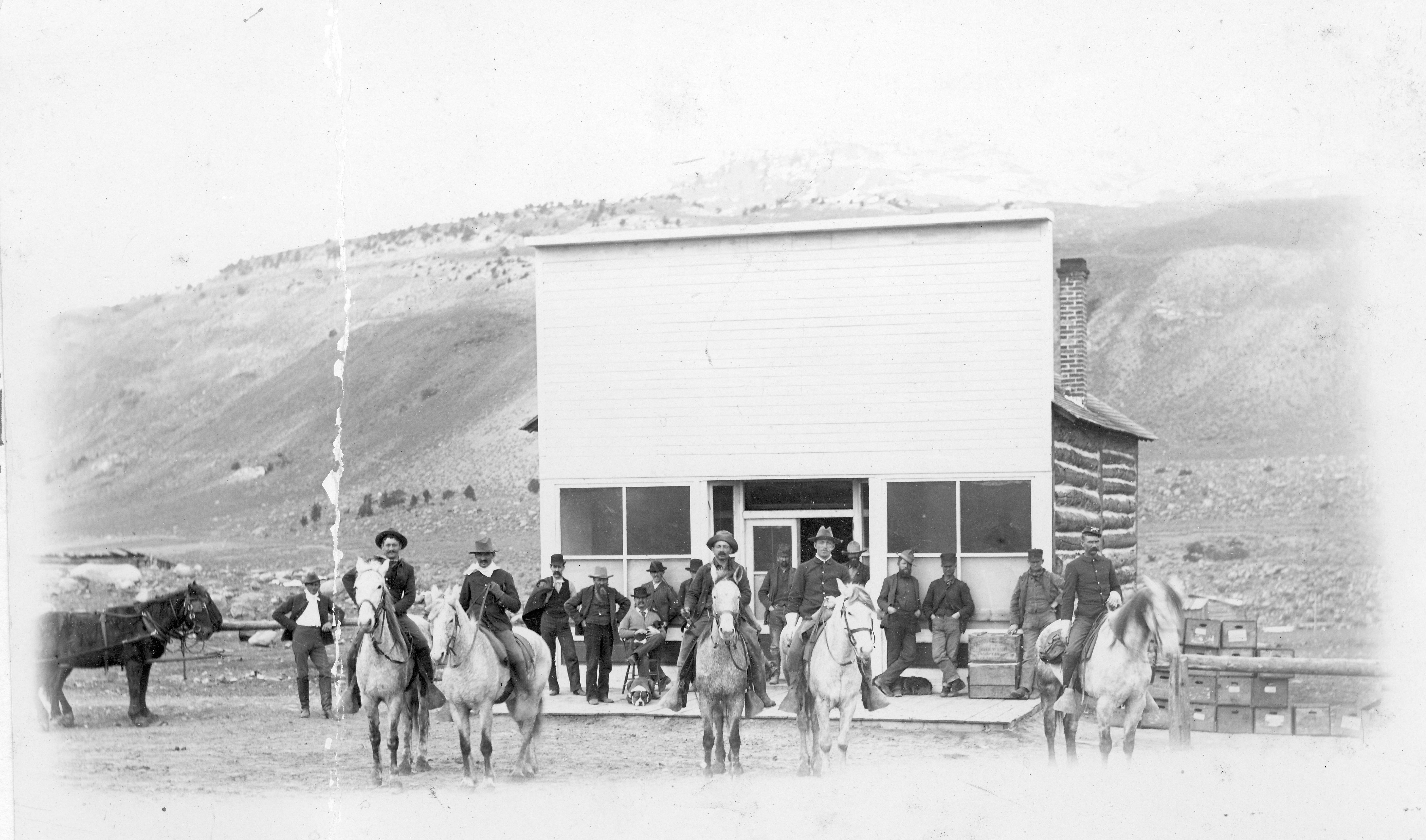 About half way down the Old Gardiner Road that runs between Gardiner and Mammoth Hot Springs, there is a spring named Whiskey Spring.  There are two stories of how this spring came to have this name, both of which have some evidence to support the truth of them, though it is unclear who was responsible for the actual naming of the spring.  Army soldiers were one group who used this spring, many of whom, apparently on their walk back to Fort Yellowstone from drinking in Gardiner, would stop at this conveniently located cool spring for some much needed hydration and possibly as an easy-to-find landmark to store whiskey for future use.  The second group who reportedly used this spring for a very similar purpose were stagecoach drivers.  They too apparently hid whiskey at this spring as they were not permitted to carry it on them while working.  They could stop their stagecoach at Whiskey Spring, appear to be taking a drink of water and instead take a few swigs of whiskey with their passengers none the wiser.
Though the presence of stagecoach drivers and army soldiers in Yellowstone National Park came to an end in the late 1910s, interestingly enough, this practice of hiding whiskey and alcohol in Yellowstone did not stop with their leaving the park.  Shortly after this time prohibition began and a number of bootleggers were caught and charged in the park each year.  Letters in the archives indicate that park rangers were authorized to detain bootleggers as well as seize any vehicles involved so the vehicles would no longer be used for illegal purposes.  Yellowstone park rangers detained a number of bootleggers each year and even once detained two priests who were found with 18 bottles of sacramental wine.  This appeared to be an excessive amount of wine so the two priests were detained until they could prove their purpose was legitimate (which they were able to do).  There are also letters in the archives from 1923, sent between Judge Meldrum, who was the U.S. Commissioner for the park and Walton, who was a prosecuting attorney that worked on many of the prohibition violation cases.  These letters show that prohibition and alcohol bans in Yellowstone could prove to be a struggle to adhere to for men of all walks of life, from U.S. Commissioners to army soldiers to stagecoach drivers.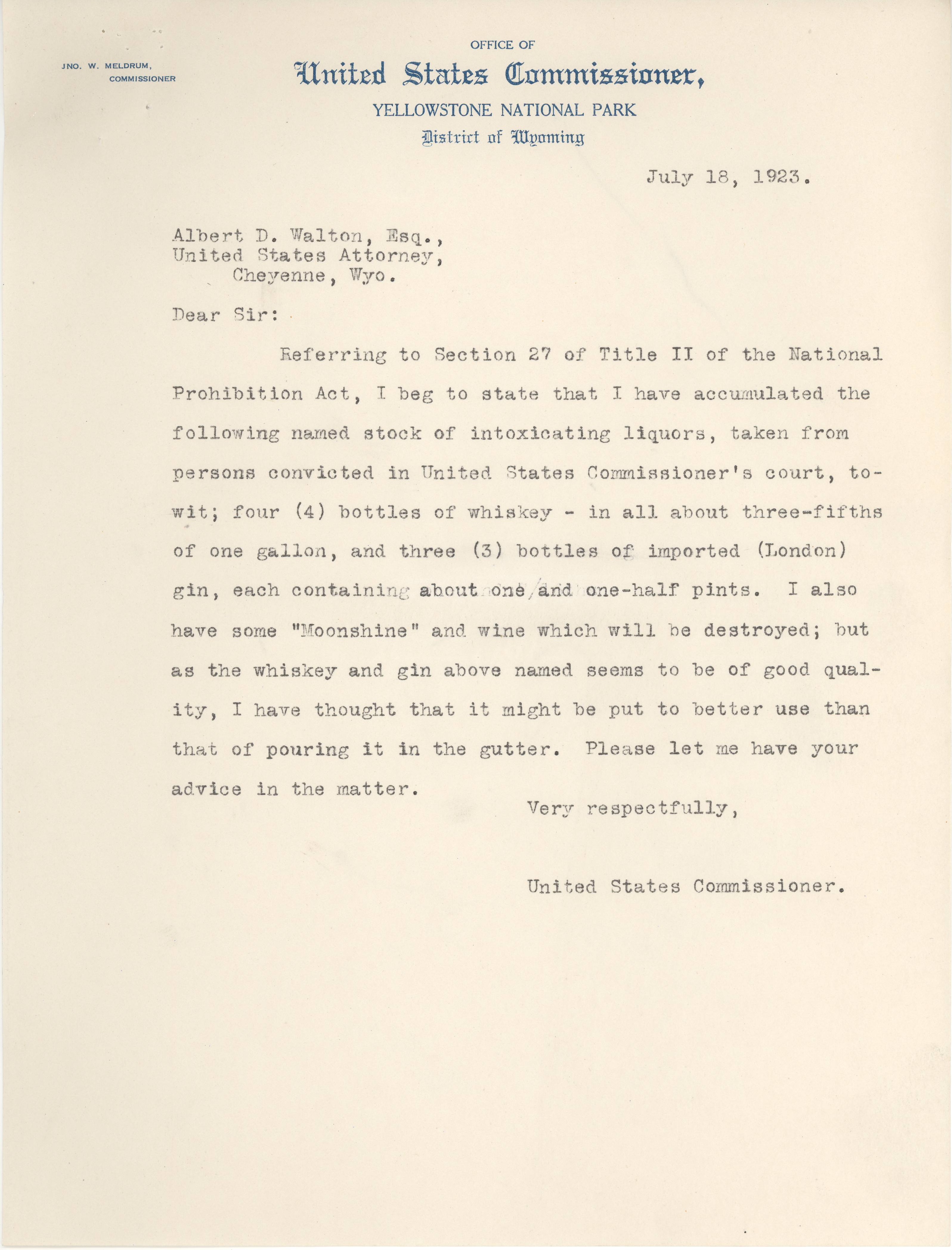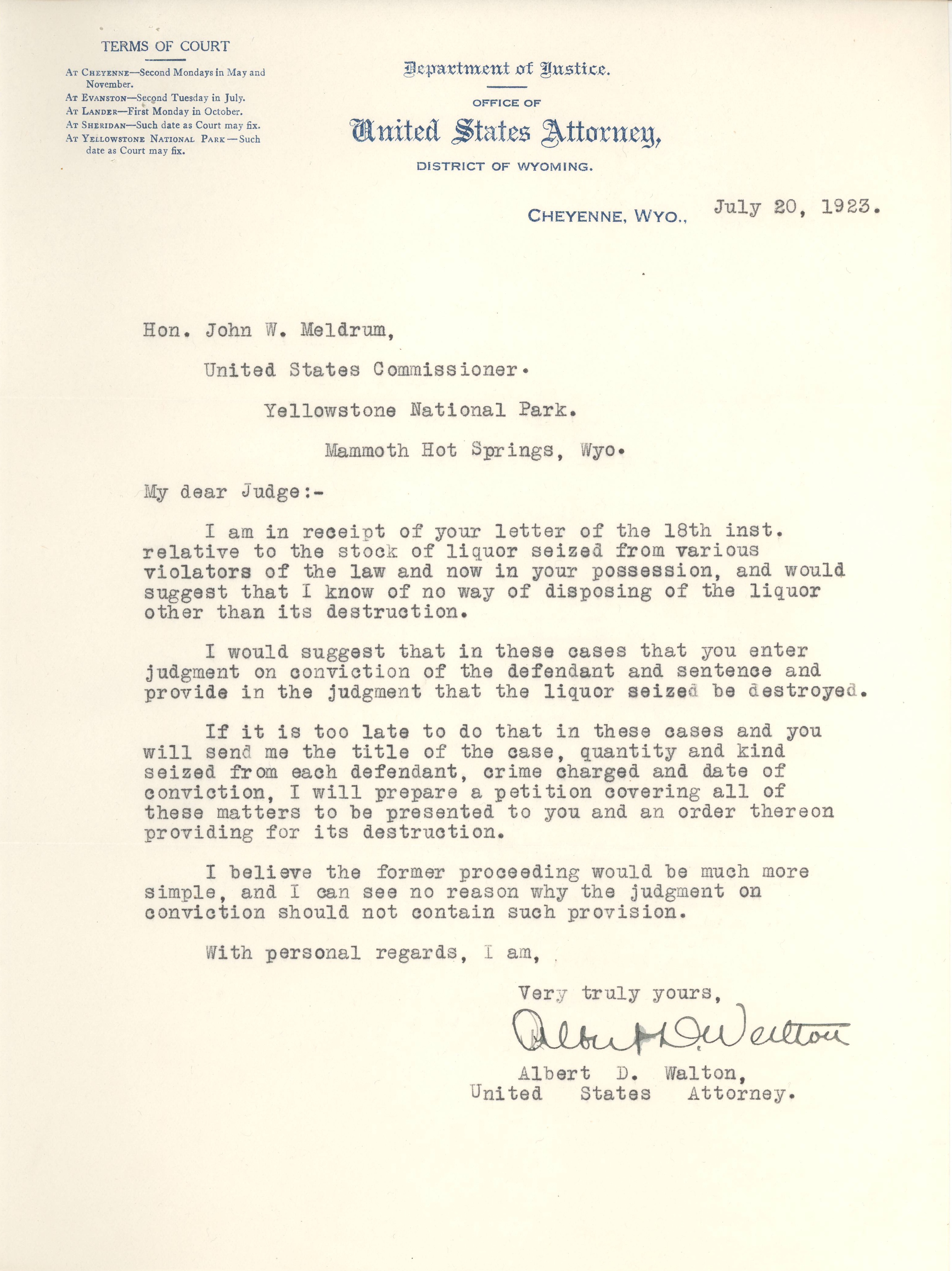 Sources: Letter Box 19 and Bound Volume – Item 155, Yellowstone National Park Archives.  Yellowstone Place Names by Audrey Haines, Yellowstone Place Names by Lee Whittlesey, Photo History of Gardiner, Jardine, Crevasse by Bill Whithorn, and Yellowstone: A Wilderness Besieged by Richard A. Bartlett, Yellowstone Research Library.  Geyser Bob'sYellowstone Park History Service: Gateways- Gardiner (http://web.archive.org/web/20091027051425/http://www.geocities.com/geysrbob/Gateways-Gardiner.html).