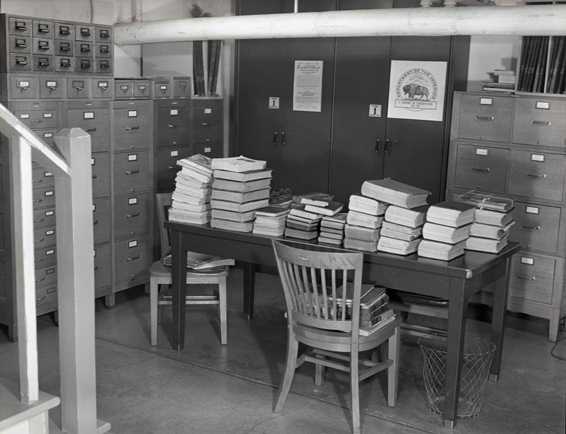 Unprocessed archival records and books await processing, circa 1965. Photo YELL 38654.
Thanks to the Yellowstone Park Foundation (YPF), the Yellowstone Archives will benefit from a $106,000 grant from the Council on Library and Information Resources (CLIR) to organize, catalog, and make available to researchers some of our "hidden" archival collections. CLIR's funding is part of its Cataloging Hidden Special Collections and Archives program, which is supported by The Andrew W. Mellon Foundation. The Yellowstone Archives will use the funding to process (i.e. arrange and catalog) a good portion of our own hidden collections and make them available to researchers.
We've designed an innovative way to accomplish this task—we're calling it a "processing blitz". Modeled on the NPS's highly successful BioBlitz program, which uses students, volunteers, and scientists to conduct an intensive 24-hour inventory of all living organisms in a given area, a "processing blitz" would deploy a small group to arrange and describe collections in a very short time period.
One of the key challenges for small repositories like ours is limited access to assistance—the nearest university in 100 miles away and the closest graduate archives program more than 500.  For rural repositories, the processing blitz would offer a way to make the most of Elderhostel groups, alternative spring break student programs, professional "angel projects", or opportunities such as the NPS's detail program, which allows staff brief time away from their home park to work at another. This project addresses the challenges of processing collections efficiently and cost-effectively at a small and/or rural repository without ready access to professionals or even students.
So, we propose to test a new method of archival processing employing small teams to process collections in a concentrated, rapid manner. Despite innovations such as minimum standards processing (MPLP), processing is generally an individual task. Traditionally, students or volunteers might be assigned smaller tasks within a project, but these actions are undertaken after the bulk of the arrangement has been completed by the processor. The Yellowstone project instead uses a team approach for all facets of arrangement and description. Instead of one processor working on one collection, a whole team of processors will arrange and catalog one collection, simultaneously. The project will also test the blitz concept with groups of varying experience and skills. Planned groups include volunteers, undergraduate and graduate students, allied and technical staff, and visiting professionals. (Our first recruitment, for graduate students, has already gone out to the student archivists listserv and each of the graduate programs listed on SAA's website. As the project progresses, we will make additional announcements seeking volunteers from the archives professional, NPS, and Yellowstone supporter communities.)
One of the main outcomes of the grant—in addition to reducing our backlog and making more than 400 linear feet (~250,000 documents) available to researchers—is the creation of some tools and tips for replicating the blitz processing concept at other institutions. As the grant continues, we plan to post updates, photos, and copies of the tools here. We hope you will join us on our journey whether it is as a blog follower, volunteer, or even as the next archives to try a processing blitz.