It all started with a Google search.Yes, even information professionals start with Google when trying to track down historical information (but we rarely stop there). I was searching for something completely unrelated, which is usually the frustrating part of online research-you get so many non-relevant results. But in this case, I found something unexpected and was intrigued. 
A page in Google Books (a useful resource for anyone doing historical research) showed that the Bar and Billiard Room of the Palmer House of Chicago fame was offering a drink called "Yellowstone Punch," for 25 cents, in 1883. Now, I wasn't surprised that there was a drink inspired by Yellowstone. Between the unusual colors of the thermal features, the contrasts of hot and cold, and the overall fascination with the place there have been a lot of artists, craftsmen, and manufacturers who have taken advantage of the Yellowstone cachet. Our library houses an extensive collection of music inspired by or evoking Yellowstone. Our name has also graced such diverse items as a sleeping bag, Kentucky bourbon, and several warships.
So, it wasn't that a drink had been named for us so much as the date that was a surprise.In the 1920s, there had been a fad for mixing up unusual drinks. It was also the era that Yellowstone's visitation began to boom with the advent of automobile travel.1883 is much earlier, however, when few had actually visited the Park. I searched for other, later, cocktails with a Yellowstone inspiration and found none. Now I was determined.What inspired this early nod to Yellowstone and what, exactly, was in Yellowstone Punch?
I did some additional searching for recipe books and the history of the Palmer House in Worldcat, the giant, worldwide library catalog, and found that the Palmer House had published a couple of recipe books in the 20th century. These were held in only a few libraries, but I emailed one, the Culinary History Collection at Virginia Tech, and asked them to if the drink recipe had been reprinted.Their archivist was kind enough search-and also check through other cocktail and drink recipe books-but had no luck.
With one dead end, I turned to the next most likely place for the recipe-the records of the creator, the Palmer House.This is a key concept for archival research-determining who is most likely to have created a document and then following the administrative chain to where the document now resides.This is called provenance, and it the reason why not all materials related to a place are necessarily housed in that place (for example, many early records pertaining to Yellowstone are housed in the National Archives in Washington, D. C., since the sponsor of early expeditions was the Department of the Interior and its headquarters is there). Some additional online searching showed that the Palmer House is now owned by Hilton and many of their historic records are part of the Hospitality Industry Archives at the University of Houston. I emailed the archivist, who again searched not only the Hilton corporate records, but also their collection of cocktail and drink recipe books. Unfortunately, to no avail.He also forwarded my request to his colleague, the historian for the Palmer House in Chicago. The historian is still digging, but so far, no luck.
That's the way it goes, sometimes, with archival research. So many factors must align for a record to exist more than 100 years later.Did the bartender even write down the recipe? Did it survive the various building fires, floods, moves and other events that might have destroyed it? Was it recognized as historical and saved, or was it eventually considered out of date, unfashionable or not recognized as a recipe at all and tossed? If it was saved, where might it be filed (be honest, is your filing system-if you even have one-understandable to anyone other than you)? And that doesn't begin to address the challenges the archivist might face if it makes it to an archives.Sorting and cataloging is time intensive and there are always more documents than there are hours in the day. So, the recipe may yet turn up-and there are now several of us on the hunt. But, in the interim, there's an opportunity out there for aspiring chefs and mixers to come up with their own interpretation for Yellowstone Punch. If you do, though, make sure your write it down and store the recipe in a safe place!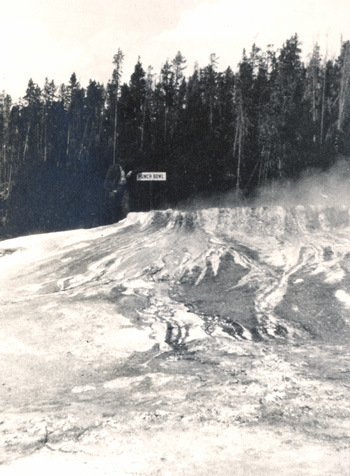 Punch Bowl Geyser, circa 1900. Photo: #YELL194218