Ken Burns' 2009 TV mini-series The National Parks: America's Best Idea brought to the public's attention the vital role the U.S. Army had in protecting early national parks.  Not surprisingly, much of the focus was on the cavalry units who patrolled the parks, but infantry units also played important parts including being among the earliest park interpreters in Yellowstone.
Yellowstone National Park was established on March 1, 1872, and was administered by a civilian staff for the next fourteen years.  During this early period the protection of the park from poachers, looters, and vandals was at best very limited.  So in 1886 Company M, 1st Cavalry Regiment, was sent to Yellowstone to protect the park.  This assignment was only meant to be temporary, but in the end the Army stayed in Yellowstone for 32 years!  And while other parks, such as Yosemite, experienced military administrations, only Yellowstone would become the site of a permanent post.  In fact, the military administration of Yellowstone was the longest-lived example of this unique experiment.  
Company M was commanded by Captain Moses Harris, who also served as the park's acting superintendent from 1886 to 1889.  Captain Harris soon realized that he would need reinforcements to cope with the ever-increasing number of park visitors.  In August 1887, he requested the assignment of a company of infantry for duty in the park during the summer months.  In 1888, his request of additional troops was partially answered when fifteen soldiers from the 22nd Infantry Regiment, led by Lieutenant Thomas M. Moody and Corporal Louis R. D. Hunter, arrived at Yellowstone.   
These infantrymen were soon guarding the area around Old Faithful and the Upper Geyser Basin, and it was here that they earned the titled "The Immortal 15."  Here's a transcript of an 1888 letter to the editor from the Livingston Enterprise written by a park visitor:
In a recent issue in speaking of Uncle Sam's Army...you convey the impression that the last 15 additions thereto are decidedly tough and worthless.  I am glad to bear witness to the fact that such a reputation does not belong to all of them, as witness the following incident.
Scene - Upper Geyser Basin.  Personages - Corporal in the U.S. Army, and one of the immortal 15, and a middle-aged lady tourist with a flock of more or less middle-aged females under her wing.  Bystanders - a few humiliated and depressed tourists and a detachment of soldiers ready to rush to the assistance of the aforesaid Corporal in case he needs it.
Middle-aged lady, timidly addressing the Corporal, "Will you please tell us if Old Faithful will probably be in a state of eruption again today?"
Corporal (swelling up and striking an attitude), "I am not here to be talked to death by a lot of women.  Neither do I propose to answer a thousand and one fool questions."
Lady (quietly), "Well, will you please tell us just what questions we are allowed to ask, and how many of them, so that we may govern ourselves accordingly."
Corporal, "It is not any part of my business to answer questions at all, but if you will keep still I will, without being questioned, explain all that is necessary for you to know."
Thereupon the ladies assumed various awe stricken positions, and the Corporal delivers a lecture similiar to a man who is shooting off a magic lantern.  The foregoing conversation and occurrence are facts, and yet there are people who visit the park not sufficiently civilized to fully appreciate the treatment they receive.
Regardless of whether or not visitors appreciated the "treatment they received" from this detachment of infantrymen, this story helps demonstrate that their role at Old Faithful wasn't limited to just protecting park resources.  If fact, according to Yellowstone historian emeritus Aubrey Haines, interpretation in Yellowstone had its early beginnings with these "Cone Talks" given by the soldiers of the 22nd Infantry in 1888.  
Members of Yellowstone's Immortal 15:
Lt. Thomas M. Moody
Cpl. Louis R. D. Hunter
Pvt. John Cleary
Pvt. John Coyle
Pvt. John Donnelson
Pvt. John Fackland
Pvt. Henry Haley
Pvt. Thomas Horton
Pvt. Alfred Kennedy
Pvt. Dennis Mack
Pvt. Chris Meuer
Pvt. Herman Martin
Pvt. John Mulirhill (sp?)
Pvt. Thomas Norton
Pvt. Clayton Wilson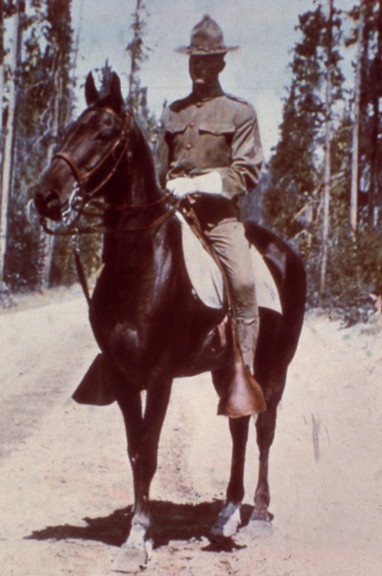 This mounted soldier is often misidentified as a cavalryman. However, upon close examination, the color of this corporal's hat cord is light blue (infantry) and not yellow (cavalry).

Sources:
Army Era Records, Yellowstone Park Archives; Battle, David and Erwin N. Thompson.
Fort Yellowstone Historic Structure Report
(May 1972);
Ekey, Robert. "Infantry heads for the fire lines,"
Billings Gazette
(August 23, 1988);
Hampton, H. Duane.
How the U.S. Cavalry saved our National Parks
(1971); Haines, Aubrey L.
The Yellowstone Story: A History of our first National Park
, vol. 2 (1996);
Livingston Enterprise
[newspaper], Yellowstone Research Library; May, Kay.
Returns of Regular Army Infantry Regiments, 1821-1916, National Archives and Records Administration;
Whittlesey, Lee.
Death in Yellowstone: Accidents and Foolhardiness in the first National Park
(1996).