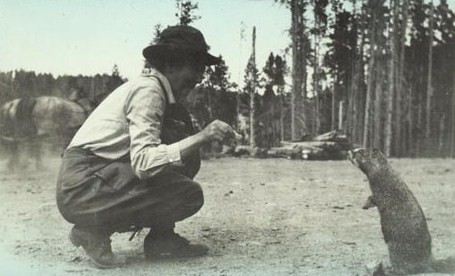 Occasionally while reviewing an archival collection, a reader runs into a topic title that is so dramatic it distracts said reader entirely from the original project. In this case, it was the phrase "the bald marmot situation" from a January 24, 1990, letter by Professor Judith S. Weis. (My original topic, for the record, was vegetation documentation).
The bald marmot situation raises interesting questions about the environmental impacts of tourism.  Beginning in the late 1980s, marmots living near Old Faithful Geyser would emerge hairless from their winter dens under the boardwalks.  Not surprisingly, both visitors and park staff were concerned. In 1993, the park received a letter from a student in Italy asking about the bald marmots, showing just how far interest in the park traveled, even before the era of social media.
Several causes were posited.  One theorized that the marmots were consuming high amounts of junk food dropped by visitors in the highly trafficked areas around Old Faithful Geyser. Another theory suggested it might be the boardwalks themselves causing the hairlessness since the animals emerged from underneath the boardwalks bald, but would grow a full coat by the end of summer before repeating the same process over the next hibernation period. Tests also revealed that their fur contained traces of arsenic, which is found in treated lumber like that used to create the boardwalks. 
Either way, the localized nature of the bald marmots pointed to an environmental factor. Due to heavy visitation at Old Faithful, most of the letters in the file agreed that the situation might be caused by a tourism-related activity, whether it was the boardwalks constructed to protect tourists, or the actions of visitors.
Unfortunately, the bald marmot research concluded without pinpointing the cause.  The fifth year that the marmots emerged hairless happened to be 1988. The fires of that summer changed the focus of much of the park's research. Writing at the end of 1990 or the beginning of 1991, Dr. Mary Meagher said, "The fires of 1988 served to break the continuity of attention for some topics, and the hairless marmot issue seems to be rather inactive." The last few documents in the files report that the research was inconclusive and, since the marmots seemed healthy despite their strange loss of hair, was not being continued. Today, rangers report that the marmots are no longer bald. Whether it was changes to the boardwalk, which is now higher from the ground and constructed of different materials, or the positive effects of educational efforts to reduce litter and the feeding of wildlife, the cause of the situation as well as its resolution is as yet undetermined.

The Bald Marmot Situation, then, offers interesting insight to the relationship between tourists and their environment and the possibly negative interplay between the two, but also the shifting focus caused by large scale events.
And it has a catchy title. 
 Sources: Resource Management records, Yellowstone National Park Archives.