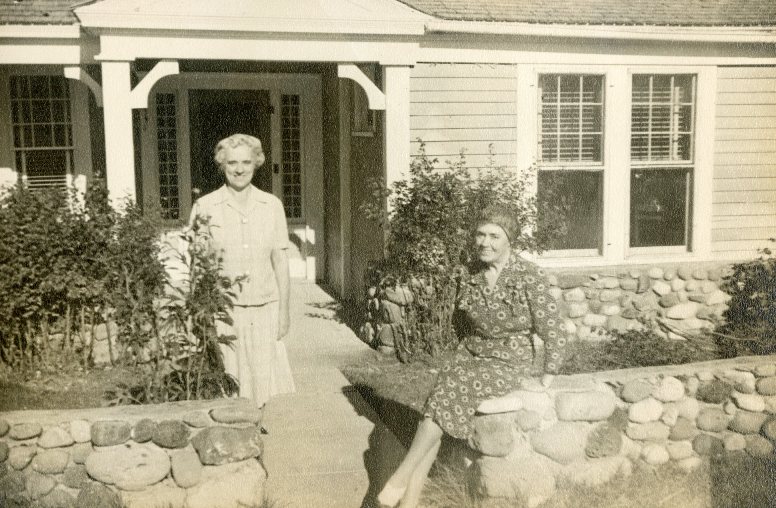 Sisters Elizabeth Trischman (left) and Anna K. Pryor (right) in front of their house, circa 1950. Photo: YELL 122107
In celebration of the 100th anniversary of women's suffrage in Montana, we are highlighting some of the women of Yellowstone. Although this post describes a whole family--men and women--the key focus is two enterprising sisters.
The Trischman family first came to Yellowstone National Park when George Trischman began work as a post carpenter for the U.S. Army at Fort Yellowstone in 1899.  George and his wife, Margaret, had five children: Anna, Harry, Elizabeth, George T., and Joseph.  Though this family achieved national notoriety when a mentally ill Margaret attacked and killed their youngest son, Joseph, they are even more well-known for the contributions they made to Yellowstone National Park through three generations of hard work and success.
 After finishing school, Harry returned to the park and began work aiding the army as a packer and civilian scout.  After the creation of the National Park Service in 1916, he became a Park ranger with later promotions to Assistant Chief Ranger and Chief Buffalo Keeper.  His scout diaries and many documents relating to his work in the park are located in the archives and provide a great deal of information about the park in its early days.  
 Anna worked as a schoolteacher at Yellowstone for a short while before marrying George R. Pryor.  After marrying, the couple purchased Ole Anderson's Curio Shop at Mammoth Hot Springs in 1908.  Within a few years of purchasing this business, Elizabeth would join her sister, taking over George's share of the company.  Together, Anna and Elizabeth expanded their business over the next four decades to include soda fountains, souvenirs, ice cream, toiletries, cigars, a cafeteria, and a very popular little shop called the Devil's Kitchenette located next to the Devil's Kitchen cave, a large tourist attraction.  By 1932, Anna and Elizabeth owned all of the general stores and gas stations in the northern half of the park. 
Anna and Elizabeth also employed a third generation of Trischman's in their shops.

 

Anna's daughter Georganna began work in the shop in 1925 and eventually served on the Board of Directors for the company.

 

Harry's son, Harry (Bud) Jr., also worked at the shops and married one of his fellow employees, Louise Mohar.

 

Harry and Louise ran the Mammoth shop during the winter months, the only Pyror and Trischman store to remain open outside of the summer season.
Anna and Elizabeth's shops and cafeterias were very popular.

 

They became very well-known members of the Mammoth community and mention of the sisters and their places of business appear frequently in other park employees diaries (e.g. Herma Albertson Baggley, the first woman to be employed full-time as a Junior Park Naturalist at Yellowstone) and correspondence (e.g Judge Meldrum, U.S. Commissioner) that now reside in the Yellowstone Archives. The archives also houses many of the Trischman and Pryor financial records and concessionaire permits.
Sources:  Herma Albertson Baggley papers (MSC01) and Army Era records (LB26 &43), Yellowstone National Park Archives; Women in Wonderland by Elizabeth A. Watry and Superintendent's Monthly Reports, Yellowstone Research Library.