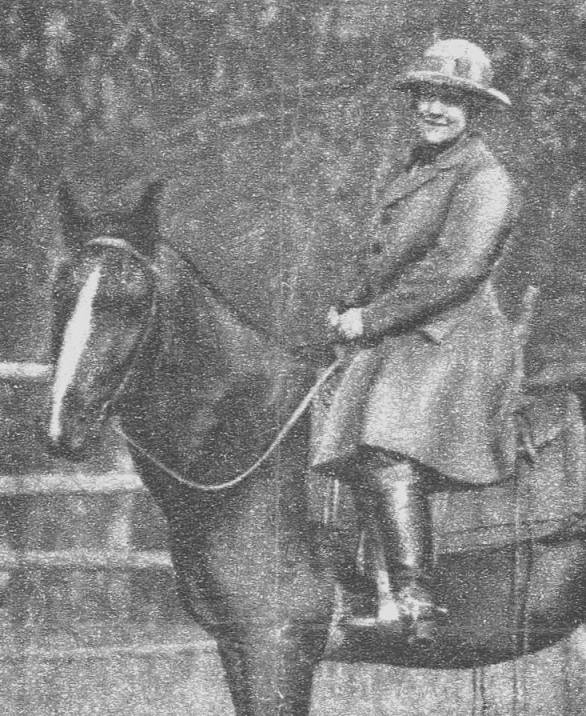 Newspaper image of Alice Parmeteer Morris, 1917. Photo: The New York Times Magazine, February 10, 1918.
Continuing our summer series celebrating the women of Yellowstone National Park--as part of the centennial anniversary of women's suffrage in the state of Montana—this time we'll focus on someone who might today be considered a VIP, or volunteer in the park: Alice Parmeteer Morris. A New York socialite, Alice Morris had an adventurous spirit. She had traveled extensively to Europe as well as Japan, a trip about which she published a small book. Her visit to Yellowstone in 1917, resulted in a detailed report outlining potential backcountry trails. Her report was well received and many of her suggestions appear to have been implemented in the years following World War I. Unfortunately, Alice and her husband divorced not long after 1917, and she seems to disappear from the public record. It is unknown if she ever returned to the Park.
 Morris's adventures were so novel, that they merited a substantial article in The New York Times Magazine on February 10, 1918. An excerpt from the article is below; full-text is available online from the publisher (click download high-resolution pdf).
 YELLOWSTONE TRAILS BLAZED BY NEW YORK WOMAN
 . . . The National Park Service of the Department of the Interior has recently accepted a complete mapping of the projected trails through the vast extent of the Yellowstone National Park. Work is to begin on the actual cutting of the trails as soon as possible. Back of its neat lines and dots and tracings lies a great amount of rugged, courageous, brilliant work. It is the sort of work which any one would think must be done by a forester or a professional mountaineer or surveyor.
But it was not. It was done by Mrs. Robert C. Morris, a New York woman who has a ranch on the borders of the park and spends her Summers in the Yellowstone because she loves it and who gave the whole of last Summer, and rode fifteen hundred miles on horseback, to plan the Yellowstone trails.
. . . "My hope is that the completion of a system of trails will open the park to a great many people who otherwise might not think of going there at all," she said. "What could be more beautiful than a Summer journey with pack horses through that glorious country! And it is perfectly safe, you know. The guides are all men who are well known, the horses are gentle and trustworthy, and women and children can spend a magnificent holiday with horses and camping outfits on the trails. I cannot imagine greater pleasure, and I hope that thousands of Americans are going to discover it."
"We got up every morning at 5," she went on, "got the pack outfit off, mounted our horses, and rode until noon. But to say that we 'rode' doesn't give an accurate picture of my day. I was very busy, blazing the trail, finding the best way, working out the route. Sometimes we were waist-deep in snow. And," she added, casually, "there were a good many rivers to ford; sometimes the horses had to swim. At 12, or thereabout, we stopped for luncheon, usually by a beautiful stream or perhaps by the side of a lake. We lunched and rested until about 1, then mounted again and rose to our day's destination. We generally reached it about 4. I always followed the regular system of making a point for the day's goal and arriving there. That is the only way to get anything done. System was necessary in this, as it is in anything. We usually arrive at our destination, as I said, about 4. That was the plan. But sometimes we got there at 3 and sometimes not until 8. My work, as a matter of fact, usually kept me busy until about 9 in the evening. But I was always ready to get up at 5 next day. Work? Of course it was work, planning the trails. But it was the most stimulating and inspiring kind of work you can imagine."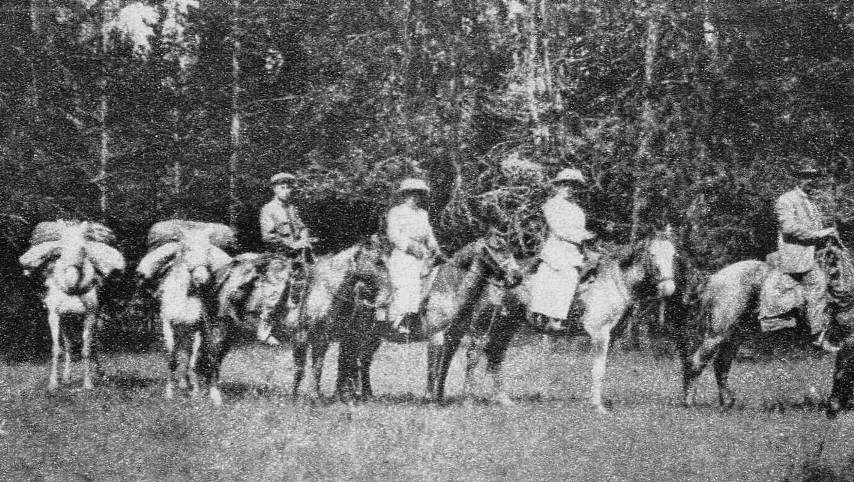 Newspaper image of Mrs. Morris and her pack train, 1917. Photo: The New York Times Magazine, February 10, 1918.