Imagine, if you will:
It is the summer of 1908 and you are on a five day tour of Yellowstone National Park via stagecoach. Peering out from the window of an observation wagon, you spy swimming ruddy ducks in a passing pool.  Your wagon is the third wagon in a stage line of fifteen wagons, heading south on Yellowstone's Grand Loop.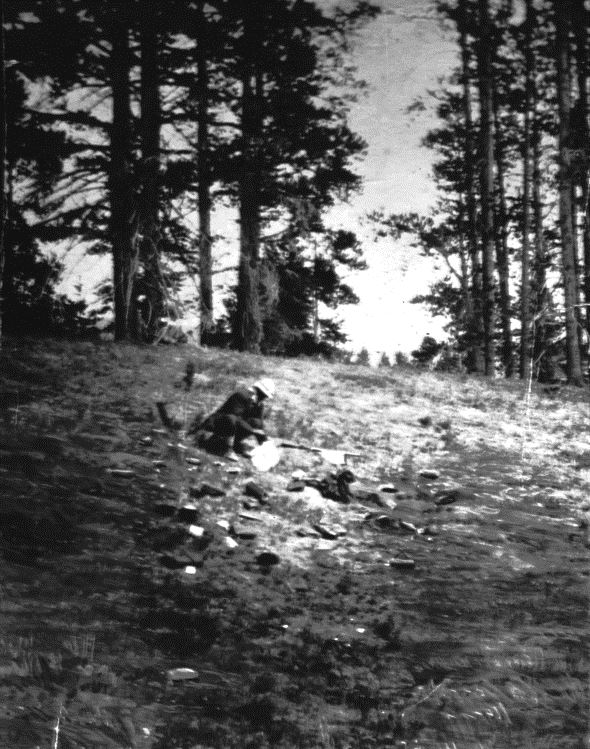 Aside from your compatriots, you're completely isolated and alone in the park. The nearest Park station is several hours away; there are no cellphones or telephone services to call for help should a problem arise; automobiles were absent from the Park. The smooth paved roads that we're familiar with today do not yet exist, in their place are dirt roads, riddled with ruts and holes, spreading dust and breaking wagon wheels. You're completely alone in the Park, but it's not bears or bison that you fear, it is robbers.
In 1887, 1897, 1908, 1914, and 1915 tourists and stagecoach drivers alike fell victim to the iconic western crime, the stagecoach holdup.  One of the largest of Yellowstone's holdups occurred on July 29, 1914 near Shoshone Point, due east of Old Faithful. During the holdup, gunmen held up twenty-five stagecoaches carrying over 165 passengers, making off with nearly $1,000 in cash and jewels. During the robbery, tourist and victim W. I. Allinder managed to sneak a photo of the robber. This photo, along with witness testimony, ultimately led to the arrest and conviction of Edward B. Trafton.
Correspondence and other historic documents concerning Trafton and his 1914 Stage Coach robbery, found in the Yellowstone Heritage and Research Center Archives, detail the immediate aftermath of the robbery. During the robbery, one stagecoach was able to turn around, unnoticed by the robbers, and head back west to Old Faithful to call for help. Law enforcement records and witness statements detail the tense events of the robbery, including the foul language and the threat of rifles. More interesting, perhaps, is the ensuing manhunt and the related correspondence leading up to the arrest of Trafton. Read simply, these records and documents demonstrate the efforts of the Army to identify and locate Trafton. However, when one takes a deeper look at the correspondence and correlated actions of the Army, these records indicate that following Trafton's hold-up (and many other robberies) Park officials scrambled to identify the assailants. Government officials, witnesses, and interested parties alike all wrote into Yellowstone to offer their opinions and suggestions as to the identity of the robbers. Many of these letters offered a would-be suspect based on little more than intuition and a slight description of the robber.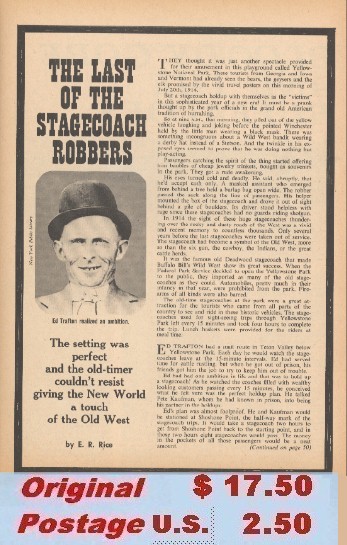 This is the official description of a 1914 robber released by investigators:

 

"About 5'8", weighting about 145 lbs. Blue eyes, short hair, probably dark, with large sunburnt hands. He carried a Winchester rifle and used a black handkerchief as a mask. Dressed in tan corduroy trousers tucked into black, high laced boots, with thick grey socks visible. He wore a felt hat with a hole in it, and an old, faded coat. He spoke good English and was fairly polite."

 

After this description was released to the public, law enforcement officials inside the park became inundated with tips and suggestion offering potential subjects. One man wrote in to recommend that the Park look into a suspicious man in town who, like the robber, wore thick grey socks. Another helpful citizen directed law enforcements to speak with a suspicious new-comer to town, who, also like the robber, was a male with (probably) dark hair. Many others suggested possibly suspects based on rumors of criminal past and personal intentions. These suggestions actually led some Park officials to officially order the arrests of several innocent men, based on hearsay and intuition.

Stagecoaches are a large part of Yellowstone's history. For many years, stagecoaches were the only way to see the park and while public use of stagecoaches was banned in 1916 when automobiles were allowed in the park, they are still in use today by Xanterra for park tours leaving from the Roosevelt Lodge.

If you are interested in doing your own research or learning more about stagecoaches in Yellowstone, resources are available in both the Yellowstone Research Library and the Yellowstone Archives located in the Heritage and Research Center in Gardiner, Montana. The Yellowstone National Park Museum, also located in the HRC has an extensive collection of stagecoaches as a part of their Historical Vehicle Collection. While this collection is restricted, there are hopes to build a permanent exhibit at the museum, and special tours are possible if planned well in advance.