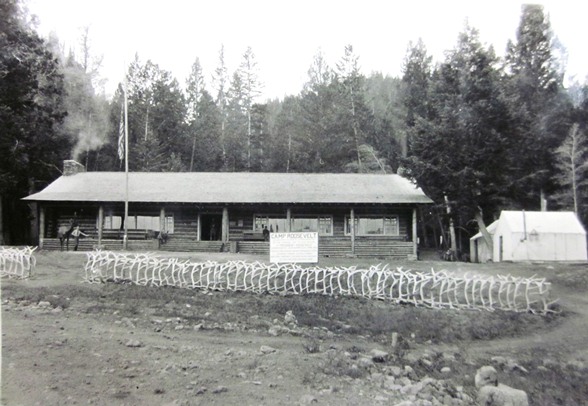 Roosevelt never slept here.  Although long advertised as the site at which President Theodore Roosevelt camped when visiting the Park in 1903, that site was actually more than a mile to the south, closer to Calcite Springs. President Chester A. Arthur is also said to have camped nearby during his tour in 1883, although the exact location of many of his camps are not able to be precisely located. The Wylie Camping Company first opened a tent camp on the location in 1906 and capitalized on the presidential proximity by naming their location Roosevelt Tent Camp. Wylie's accommodations featured canvas tents with wood floors and rustic furniture. A family-style dining tent and a bathhouse at nearby Nymph Spring completed the amenities.
Constructed between 1919 and 1920 by the Yellowstone Parks Camps Company, the lodge and cabins were designed to accommodate the new automobile traveler. Designed in the rustic style of architecture, the building featured exposed roof trusses, massive stone fireplaces, a stone foundation, and unpeeled log construction. The location was particularly attractive to those wishing to be a bit more isolated as well as those seeking fishing, wildlife viewing, and horseback riding opportunities—all of which remain attractions today.  Lodging included tents and cabins, which were constructed beginning in 1920. Additional cabins, first from Mammoth and later from Old Faithful, were added between the late 1930s and 1962. The lodge, cabins, and surrounding area now form the Roosevelt Lodge Historic District.
Ruth Phillips worked as a "savage" or employee for the Yellowstone Park Camps Company, probably at the newly constructed Camp Roosevelt (now Roosevelt Lodge) in 1921 or 1922. A school teacher, she taught in various schools in Montana and Wyoming. She likely taught at Manhattan, Montana, just prior to her summer in Yellowstone National Park. She married in Cheyenne, Wyoming, on December 24, 1922.  The Gately's had at least one child, a daughter named Georgia.
Ruth Phillips' photograph album depicts the summer of 1921 or 1922, when Phillips worked in Yellowstone National Park for one of the park's concessioners, probably the Yellowstone Park Camps Company.  The album shows interior and exterior views of Camp Roosevelt (now Roosevelt Lodge) as well as the surrounding corral, tents or cabins, the old hitching post, and the "Roosevelt Tree". There are numerous images of her fellow employees, most identified by first name. There are also images of employee events including a 4th of July masquerade and horseback riding. The photographs show a number of animals interacting with the staff including several black bear cubs and "Billy" the elk. More scenic views of Yellowstone include images of Giant Geyser, Jupiter Terrace, and the Lamar Valley.  At the beginning of the album there are also several images of the 8th grade class of Manhattan, Montana. The album offers a very early view of Camp Roosevelt and depicts the life of a concessioner employee prior to the merger that formed the Yellowstone Park Company.
Sources: Ruth Phillips Photograph Album (MSC086), Yellowstone National Park ArchivesYellowstone National Park, National Register for Historic Places Inventory Nomination Form: Roosevelt Lodge Historic District, undated, Yellowstone Research Library and Goss, Bob V.,  Geyser Bob's Yellowstone Park Historical Service: Roosevelt and Yancy's, http://geyserbob.org/hot-roosevelt.html [accessed July 1, 2014]