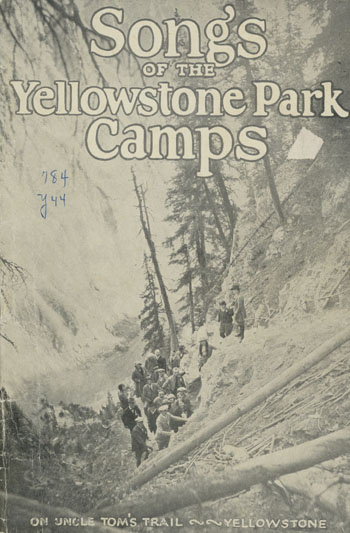 Cover to songbook, circa 1925
A popular reference question we get is, "What sort of primary documents do you have here?" Teachers and professors often ask students to use a certain number of primary documents when writing a paper and this can lead to some consternation about what actually counts as "primary material." Is a photocopy considered a primary resource? (The answer may surprise you, it's "No" (mostly). Even having a photocopy can change the elements that make an original form unique. However, many places are now accepting digital surrogates.)
To sum up, a primary resource/source/document/material is anything that is original. This can be a letter or newspaper article written from a first-person point of view, written by the person who witnessed or experienced the event. It can also be a novel that doesn't reference any sources other than the author's imagination. Anything with a bibliography is probably going to be ruled out (there are exceptions, but very few). Here's a definition of primary sources from Yale University : (http://www.yale.edu/collections_collaborative/primarysources/primarysources.html).
It would seem that it might be harder to have original documents that have been published (as most of the items are in the Yellowstone Research Library); so, does the Library have original materials? The answer is yes. Some of those items include: laws written by both State and Federal governments, sheet music, autobiographies, handwritten notes on speeches, novels, poems, and plays.
The Yellowstone Archives, on the other hand, are mainly primary documents. There are letters, oral histories, log books, registers, photographs, and administrative records. A few secondary sources such as journal articles and publications may creep in, usually as part of a research or reference file for a scientific or planning project. 
Using primary documents requires a researcher to analyze the document and try to understand not only the contents shown, but the context in which the document was created. These analysis worksheets by the National Archives (www.archives.gov) will help students better understand primary documents: Written Documents, Artifact, Cartoon, Map, Motion Picture, Photograph, Poster, Sound Recording
Need a primary source about Yellowstone, but can't visit us in person? We don't have a lot digitized yet (keep an eye on this blog, though, and we'll let you know as we expand our digital collections). In the interim, check out these sources: Early Superintendent's reports, historical advertising, and interpretive brochures on the NPS History page, Historical photographs in Yellowstone's Photo Collection, and Mapping National Parks at the Library of Congress