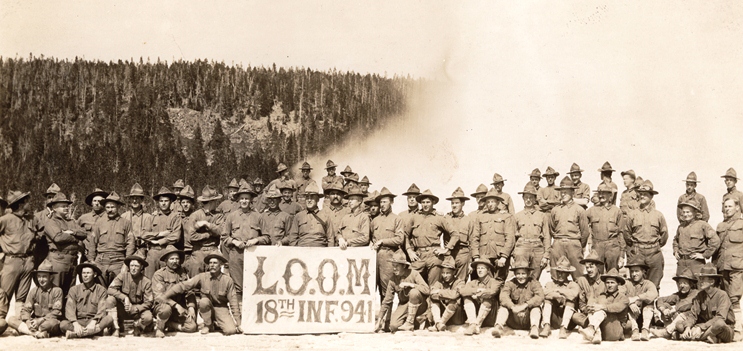 Members of the 18th Infantry 941 in front of Old Faithful, 1912. YELL 142457.

The U. S. Army administered the park from 1886 to 1918. During that time, a few hundred soldiers were stationed at Fort Yellowstone. There were also many more soldiers who were stationed at nearby posts such as Fort Ellis and may have visited or traveled through the park (and taken pictures). To determine if your ancestor was stationed in Yellowstone and what they might have done there, it is helpful to know their unit assignments and dates. This information is best found by requesting it through the National Archives:  https://www.archives.gov/research/military/genealogy.html. You can also find quite a bit of information on pre-World War I military assignments on the online search site Ancestry (www.ancestrylibrary.com). This site is freely available at many public and university libraries in addition to offering subscription access. Ancestry includes digitized and searchable copies of enlistments, post returns, and infantry and cavalry unit returns. The returns, which are sort of monthly reports, include such troop information as absences, reassignments, and military visitors and are a great way to track brief assignments, promotions, and other movements. Be aware that the search feature is attempting to understand not always legible handwriting and that the recording soldier's spelling may be inaccurate, so cast a wide net in your search and try various spellings for names. The returns have also been microfilmed and many libraries have copies or can get them on interlibrary loan. Viewing the entire run of returns for a post or unit can provide additional information about the activities at the post or unit and sometimes reveal additional genealogical information.
The returns form part of the military record, which is a separate set of records from the park's records. It seems that Yellowstone Park military administrators viewed themselves as wearing two hats—one as park superintendent and one as military commander—and kept the records for each role separate. Yellowstone houses the records related to the park's administration, while the National Archives maintains the records related to the military side, including most personnel concerns.  The Yellowstone Research Library does have some of the microfilmed returns, but the bulk of the records must be accessed at the National Archives.
What we do have for Yellowstone are documents such as soldier station logs. These logs record daily activities, including visitors and staff rotations.  It will take determination to find a specific person, however, unless you already have details on when and where they might have served.  Other documents primarily record personnel information only if there is a problem such as a reprimand or violation report. The exception is officers, whose own reports and official correspondence can frequently be found in the records. The Yellowstone Archives records are open to all researchers in the Heritage and Research Center; appointments are recommended. Contact us for more information.
Soldiers who died at Fort Yellowstone were originally buried in a cemetery nearby. When the post was decommissioned in 1918, these graves were relocated to the Custer Battlefield National Monument (now Little Bighorn Battlefield National Monument). Burials for the Custer National Cemetery as well as the other national cemeteries may be searched here: http://gravelocator.cem.va.gov/.
While many soldiers felt that duty in Yellowstone was not a true Army assignment, a few soldiers so enjoyed their jobs and the place that they mustered out of the Army and joined the brand new National Park Service, becoming the first Park Rangers.