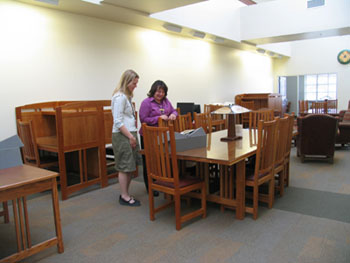 Reviewing a rare book in the HRC's research room.
Anyone may visit the Heritage and Research Center to do research. We've had interpretation staff who wish to prepare new talks, planning staff who need to understand more about historic structures, park scientists tracking down the locations of previous study plots, and administrative staff searching for old correspondence and policies. And that's just the National Park Service researchers-we're also open to public, including high school students, university professors, independent filmmakers, fiction writers, descendents of park staff and visitors, and just about anybody in between.
If you've never conducted historical research before it can be a bit of a challenge to know how to get started. Below is some general information to help you figure out where the information might be located and to get you started on your research before you even step foot in the research room. 
First, you have to figure out where the information you need might be located. The first place to start is usually the library. The library houses books, journal articles, newspapers and other published sources that are perfect for getting more familiar with your subject, gathering background information, and finding out the latest in scientific and historical research. The library's catalog is online at http://wyld.state.wy.us/yrl/, so you can search the collections from home. Yellowstone National Park NPS staff and members of the Yellowstone Association are eligible for library cards and can check out published material directly. Check the library's website for hours of operation (they vary a bit, depending upon the season). The library also participates in interlibrary loan, so you can request books through your local public or university library.
After gathering some background information, the next stop-if you want to dig deeper-is the archives. The archives houses unpublished information such as correspondence, diaries, reports, scientific data, and oral histories. In addition to the Park's administrative records, the archives also has records from the military era of management as well as donated collections from past visitors, employees, and researchers. Brief information about the collections may be found as part of the library's online catalog (http://wyld.state.wy.us/yrl/) and more detailed descriptions, called finding aids, are on our website at https://www.nps.gov/yell/historyculture/archives.htm. When looking through finding aids, make note of the box numbers for interesting items as that is how you would access the information. Another way to locate potential resources is to make note of sources cited in the library's books. Often, the writer quotes only a small section from a larger document, so tracking down the original might provide further insight. Because the archives' materials are one-of-a-kind, they cannot be checked out and you will have to visit the archives to see the materials. Appointments are highly recommended since we are in the midst of a big cataloging project and may have to temporarily close portions of the collections (XXT%2624 &r=/yell/historyculture/archives.htm">e-mail us for an appointment or with questions).
If you still want to go still further, you may wish to do some research in the museum collection. This collection houses objects or artifacts ranging from furniture to tree cores. The collection also currently cares for most of the historic photographs. A few photos may be viewed online at https://www.nps.gov/features/yell/slidefile/history/index.htm, a few more at https://museum.nps.gov/ParkIndex.aspx (search Parks and then Yellowstone by name), and coming soon a few more at http://www.openparksgrid.org/. If you don't find what you're looking for online, or if you want to research artifacts, you will need to contact the curators to make an appointment (EO57308!* &r=/yell/historyculture/museum.htm">e-mail us).
Research can be a lot of fun and together, the library, archives, and museum collections can answer many of your questions. So, don't hesitate to get started-you don't even have to leave the comfort of your home to begin gathering your resources.