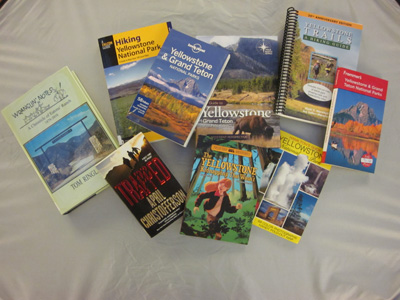 The Yellowstone Research Library is a special library which means that we are not like a public library which concentrates on all subjects or an academic library that collects items about the topics that their school teaches. Our particular special library focuses on one topic which means that we collect anything and everything that has to do with Yellowstone National Park. That includes new books that have come out about or set in the park. This year, the Yellowstone Association helped us purchase over 50 new books including some of the ones below.
Wranglin' Notes: a chronicle of Eatons' Ranch by Tom Ringley
While the Eaton's ranch isn't technically in Yellowstone National Park, the Eaton family has a history that is tightly entwined in this place. The Eatons were one of the first families to start dude ranching and were instrumental in making it a popular vacation for "city-folks."Tom Ringley has tracked back through the family's history creating a wonderful story including tidbits and stories from throughout the family tree.
Hiking Yellowstone National Park by Bill Schneider
Yellowstone & Grand Teton by Bradley Mayhew and Carolyn McCarthy
Yellowstone Trails by Mark Marschall
Your guide to Yellowstone and Grand Teton national parks by John Hergenrather
Frommer's Yellowstone and Grand Teton National Parks
We carry a wide selection of hiking books. These are useful for people just wanting to check out a particular trail but are also great for employees on their days off. Hiking books also show the historical progression of which trails are in use during which time period. The advice for hikers in some of the older books is really fun to read.
Hamilton's Guide
In addition to hiking books, many informational books about the parks were written. It was a great way to get general information about Yellowstone for people showing up in the park. A recent blog post discussed the Hayne's guidebooks. When that company was sold, the Hamilton Stores, another concessioner in the park, picked up the slack. This book fills a gap we had in that collection. As of this posting, we've identified our collection as missing the 1977, 1994, 1995, and 1999 versions.
Trapped by April Christofferson
Yellowstone has proven to be a lodestone for authors almost since it was open. Steinbeck traveled through in Rocinante, the Earl of Dunraven waxed rhapsodic about the wonders of Yellowstone, Emerson Hough wrote enough Forest and Stream articles about the park to almost create a small novella. Yellowstone not only captures the imagination of authors, it can spark it as well.We have a large and swiftly growing collection of fiction books set in Yellowstone. Christofferson's sixth book, the third to be set in the park, is going to be added to that section.
This book continues the adventures of Yellowstone Magistrate Judge Annie Peacock and backcountry ranger Will McCarroll who were introduced in Alpha Female.
The Yellowstone Kidnapping that Wasn't by Steven Brezenoff 
Fiction books set in Yellowstone aren't limited to the adult level of reading. We also have a small, but growing, Juvenile section which includes both young adult and children's books set in and around Yellowstone.