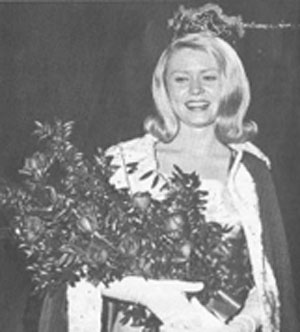 Jenny Grissom is crowned Miss Yellowstone 1966
Collections in the Heritage and Research Center's museum, archives and research library often overlap, sister collections of Yellowstone Park that we are. We may try to retain our autonomy with our distinct collection materials but when research inquiries such as beauty contests held in Yellowstone in the 1960's and early 1970's are posed, we can't help but come together.
We found a treasure trove of beauty pageant coverage in the Research Library's collection of "The Yellowstone Cub", an employee newspaper published from roughly 1965 -1972 by the Park Concessioner's Recreation Program. Every late August edition of the Yellowstone Cub featured coverage of the Yellowstone Beauty pageant, one of the highlights of the year for the employee recreation program.
On the evening of August 20, 1966 Miss Jenny Grissom was crowned Miss Yellowstone. Miss Grissom worked as a room attendant at Old Faithful Lodge and competed against girls from 11 different locations in the park. The beauty pageant consisted of a bathing suit competition, a talent competition, and a panel of questions competition to contestants who were required to dress in formal evening gowns.
For the talent presentation, Miss Grissom entertained a packed house with her humorous anecdotes, experiences and frustrations of being a "room dispenser." As Miss Yellowstone, Jenny won a $100 savings bond, a two-day chauffeur driven tour of Yellowstone with her escort that included a fishing trip, stage-coach ride and a steak fry; a dozen long-stemmed roses; a complimentary evening at the Rendezvous House in Gardiner; a gift certificate for a long-playing stereo album from Montana Music in Bozeman; dinner for two preceding a performance of "Little Mary Sunshine" at the Golden Garter Theatre in West Yellowstone, and finally a complementary one-year subscription to "High Country."
First runner-up was Miss Lake Hotel, Donna MacPherson. Second runner-up was Miss Mammoth, Mary Barovich.
Sources: Yellowstone Park Concessioners' Recreation Program. The Yellowstone Cub.Aug. 20, 1966.