Archival collections house a wide variety of curious documents.Often, it is the contents that are odd.Sometimes, it is the physical document itself that is unusual.Early advertisements, in particular, tried a variety of gimmicks to entice customers.One such document was recently discovered during cataloging of our facility and maintenance records:
Founded in 1913, the Universal Motor Company of Oshkosh, WI, was an established manufacturer of engines, farm and marine equipment, and power generation systems. It was headed by entrepreneur J. D. Termaat and inventor-turned-vice-president H. E. Fahrney, who claimed their four-kilowatt generating set was "noted for its simplicity, reliability, and smoothness of operation" and recommended it for, among the usual purposes, wireless telegraphy and "moving picture machines." Having survived several mergers, the company prided itself on having supplied generators for the war effort during the First World War.
In 1930, Universal salesman A. L. Pfund sent this wedge-shaped advertising letter to Assistant Superintendent Merrill F. Daum with a clever marketing twist. After extolling seemingly universal truths about power-generating systems with which it would be difficult to argue, the cover letter - cut in half from the top right to the bottom left corner - closes, "And now that we have taken but a half letter of your time - use the balance to read what one of our users has to say." The endorser, an assistant professor of electrical engineering at the University of Oklahoma, is full of praise for the hardy and efficient four-kilowatt power plant, which survived all the stress and testing the laboratory could give. It is unclear if the unique advertisement had its desired effect on Assistant Superintendent Daum, but it certainly made its point.
How would you replicate that in the modern, digital world?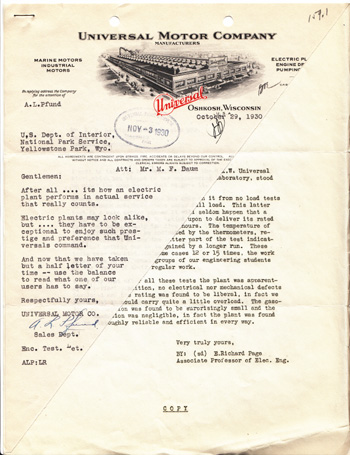 Advertising letter from Universal Motor Company featuring a diagonal cover letter, 1930.  Yellowstone National Park Archives, Facilities & Maintenance.

Sources: EMF Electrical Year Book, Volume I. (1921); Park Facilities & Maintenance Records, Yellowstone Park Archives.