Gametime: How We Blitzed
One common question on the Blitz was how exactly we managed the week. Each group was a bit different, but in general, the overall structure of the week was fairly constant. In keeping with the blitz theme, we tended to explain this to each group using the analogy of a football game: 
 Monday
Pre-Game—introductions, tour of the facility, orientation. The orientation varied depending upon the group, but usually consisted of a discussion of the grant project and its goals, emphasis on the idea that this is a test and that we valued feedback, and some discussion of archives procedures including reviewing the records schedule, talking generally about MPLP techniques (no removing paperclips, no arranging within the folders), and context or administrative history for the records to be processed. For first time processors, we also delved more deeply into archives terminology and some of the basics of archival functions, introducing ideas such as appraisal, arrangement, description, preservation, and a finding aid. Following feedback from the first group of volunteers, we added using a finding aid component to later orientations where we looked at the elements of a finding aid and then used it to locate some records in an already processed collection. This gave the team a better idea of what they were aiming for at the end of the week and why it was done that way—to help a researcher find information. This stage generally lasted two or three hours.
 1st quarter—box arrangement. Following the orientation, we then moved to the processing room where the team found a giant stack of boxes and empty shelves with proposed series on them. Yellowstone was able to propose some series based on the records schedule, which gave us an idea of what was or at least should be in the boxes. Later on, we would review these series and often divided or merged the initial groupings and very often renamed them. But as a way to start grouping like items together, this seemed to work. We talked about the series and what we thought they would contain. We then explained that if the box appeared to contain only records matching one series, place it on shelf under the tag; if the box contained several series or did not match any series, leave it in the stack with a sticky note on it that it had been 1st round reviewed. Then we blitzed, everybody opening boxes and putting them on shelves. We stressed talking to each other and to us to see what others had, to ask questions of the staff, and to work towards consistency. This was likely the most chaotic part of the process, but by the end the teams seemed to gain confidence and began to see where the whole thing was headed.  This stage usually lasted the rest of the day and into the first part of the next.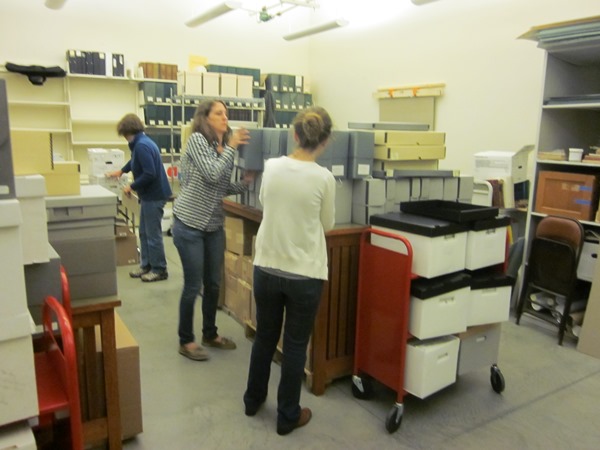 Tuesday
1st quarter-box arrangement. Continued from Monday, as needed. Generally by this time we were working with boxes of mixed materials, which took more time.  When boxes contained multiple series, we now began to take folders or groups of folders out of the boxes as and place them in empty record center cartons under the appropriate series on the shelves. We also began to identify records that did not belong in this record group and set them in a designated location for review by Yellowstone staff. Finally, we looked at records that had not found a home and either added them to an existing series, possibly with a new name (e.g. "annual reports" became "reports" to accommodate monthly and special reports as well) or, we created new series to accommodate the records.
 2nd quarter—series review and arrangement. At this point, we began taking a closer look at individual series. How we did this varied. Sometimes, one person was assigned to each series, sometimes pairs were assigned, and in our final blitz we continued to work as a team on each series. Which was used depended primarily on the number, size, and complexity of the series. First, we asked the processor(s) to simply review their materials and gather basic information about what types of records were there, what topics they covered, and the general dates involved. This was not intended to be a detailed or comprehensive review, but simply a sentence or two about what they had that could be shared with the group and to help them think through the arrangement process.
Time-out—group discussion on series. After everyone had a chance to conduct a preliminary review, we gathered as a group and shared the information. This helped to clarify what belonged in each series and often revealed some errors in the initial sort that needed to be corrected (two series were found to have the same records). We also discussed potential methods of arrangement at this point--chronological, alphabetical, by function or format, etc.—and the processors began to form ideas about what arrangement might work with their series.
2nd quarter—continued series arrangement. The processor(s) returned to their series and began to arrange series in their proposed order. We encouraged a lot of discussion during this process, to ensure that misfiled records were identified and reunited to the appropriate series.  We also suggested that processors began to take notes about their records: dates, contents, formats, and interesting or important finds, for later use in series descriptions. We warned processors not to read everyitem, but to focus on rearranging folders and groups of folders. This stage lasted through Tuesday and usually into Wednesday
 Wednesday
Half-time—group discussion and evaluation. Sometime around mid-day on Wednesday, we would meet and again review the series to make sure everyone was on the same page, to answer questions, and to continue to refine arrangements. Often at this point, we would discuss changes in arrangements based on new discoveries in the records and might also discuss merging or separating series.  Staff would present possibilities in terms of series changes and outline pros and cons of the various options, but would allow the final decision to be made by the processor(s) as they were most familiar with their sets of records. Staff also at this time asked each participant to describe one thing from any time since they had heard of the project to today that worked well and one thing that could be improved.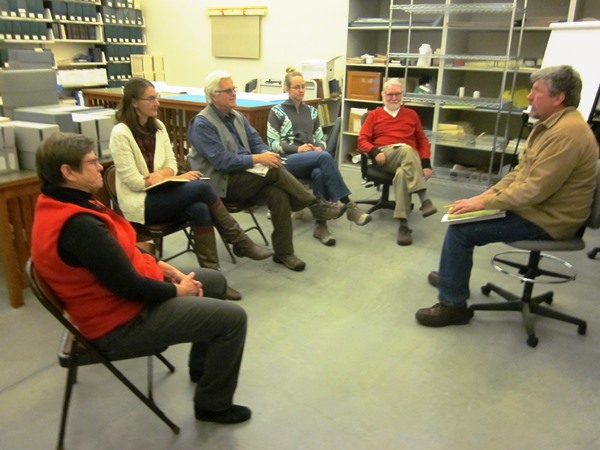 3rd quarter—final series arrangement and preservation. Largely a continuation of the previous activities, incorporating any changes determined during the half time discussion. The processor(s) would continue arrangement, now including incorporating any loose documents that might have been found. Preservation activities were limited to adding acid-free folders when there was no original folder or when the original was in 3-ring binders as these did not fit well in our boxes. Most of the materials had previously been placed in archival manuscript boxes or record center cartons, so we replaced only those boxes that were not archival or archival boxes that had been damaged or did not fit our shelving (for some reason we had a few extra tall archival boxes and they no longer fit the shelves—and were unnecessary for the contents inside). If photographs or oversized materials were located, we merely noted their presence, but did not perform further preservation. Noting the presence of odd formats or preservation challenges allows us to go back at a later time for further preservation activities, if needed, using our regular volunteer corps for this more detailed task. The staff used these findings as opportunities for instruction and we would conduct a brief "huddle" for the entire group, rather than answer questions one on one. Finally, processors were asked to continue their note taking in preparation for the description phase. The 3rd quarter phase generally lasted through Wednesday and into Thursday.
Thursday
4th quarter—series descriptions, container list, box labels. At some point on Thursday, the processor(s) would complete their arrangement tasks and move to description. Each series would be handed a thumb drive with series description and container list templates to populate. The series description was written in Word, which could be then cut and pasted into our collection management system (CMS). Processors were asked to write a narrative description of the series describing the formats, dates, and contents of their materials, including potential topics, significant events, or important finds. The container list was an Excel spreadsheet containing fields exported from our CMS, which could then be saved as a csv file and imported. The container list was generally box level and consisted of a brief descriptive title (e.g. Correspondence: A-E) and a date. At the same time, we set up a large notepad on an easel and asked team members to contribute to the administrative history/timeline with any information they had found in the records such starting and ending dates for major programs or significant personnel. We asked for similar contributions for the overall scope and content note, compiling lists of formats, dates, and subjects. The final step was to label the boxes and transport them from the processing room to their storage location in our stacks. This stage continued through Thursday and, depending upon the team, concluded at varying times on Friday.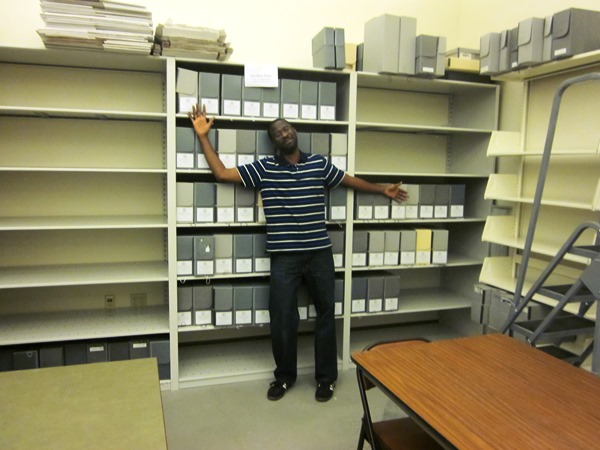 Friday
Post-game—group discussion and evaluation. Our final activity was one last "huddle" where the processors gave a final description of the series and how they had arranged and described it. We also asked again for one thing that had gone well and one thing that could be improved. These evaluations were quite helpful and suggestions were incorporated into future teams. For example, based on feedback we added a more detailed timeline (using this football analogy) and incorporated the finding aid exercise into the orientation. Our final activity was a group photograph. When we were finished varied from first thing Friday to end of day Friday, but remarkably all teams did finish at some point by the end of the day.
There were some things left for the staff to do following the blitz. We had to import the series descriptions and container lists into our collection management system, complete the administrative timeline (we chose not to do a full history) and the scope and content note. Finally, we had to post the finding aid, create a record in our library catalog, and announce that the collection was open to research.
This timeline demonstrates the schedule for the processing of one collection by one team. We also experimented with having one very large collection processed by several successive teams. For the most part, the schedule was consistent. The first team was tasked with sorting the boxes into series and then was asked to write detailed notes and instructions to the next team, in lieu of the series description and container list. The second team completed the series arrangement and description. The third team, a group of undergraduate and graduate history students with no archives experience, was asked to go more in-depth with a couple of series and perform more detailed preservation as well as creating a folder-level container list. This last team completed this task mid-week at which point we moved to processing a smaller collection from start to finish using the above timeline in a condensed fashion.
Finally, it should be noted that we also included a number of special activities and tours throughout the week. When these occurred varied, depending upon staff availability, but served to give the processors mental and physical breaks from the intensity of their tasks. Events included behind the scenes looks at our library, museum, and herbarium; a mid-week lunch time talk from Park Service resources staff about an aspect of the park's history or wildlife, a short hike or historical walk, and talks by various staff in the library, archives, and museum about their profession and training. Somehow, we managed to fit it all in and still complete our processing task on time, every time. Go team!