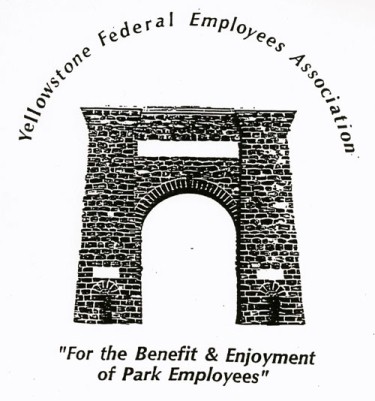 YFEA logo featuring the Roosevelt Arch, circa 2000.
Yellowstone is known as a relaxing getaway where one can experience wilderness without having to give up most of the comforts of civilization. However, many people don't consider the immense amount of work that goes into both maintaining this wilderness and making it safely and comfortably accessible to visitors. The employees of the park devote their time and energy in order to make these possible, sometimes facing unpleasant or even life-threatening conditions in the process. In 1996, a group of park employees recognized the need for an organization that would place employee support and morale at the top of its priority list. They founded the Yellowstone Federal Employees Association (YFEA) as a way to meet these needs, as well as promote greater employee bonding and involvement within the park.
YFEA main focus could be summed up in one word: fun! The association hosted countless employee parties, get-togethers, social outings and other activities where employees and their families could relax with some great food and good company. Some of the more notable events included the annual Holiday party, door decorating contests, pig roasts, field trips and cheesecake competitions. In addition, members often provided food for and participated in other park events such as races and trail cleanup days. YFEA also attempted to extend the fun beyond these activities, establishing video, exercise and book clubs through the years.
YFEA was not just about fun and games, however; the association sought to provide aid and support to park employees as well. YFEA organized charity fundraisers for employees in need, often raising significant amounts of money. In addition, the association's meetings provided a place for employees to voice concerns or grievances about their jobs and take steps toward improving their working conditions. Although YFEA slightly changed their focus in 2008 and their older records have since made their way to the Park Archives, the association provided a great service to park employees and continues to do so in its new form as the Mammoth Community Center. Its mission serves as a reminder to appreciate all the hard work undertaken in Yellowstone every day!