Books aren't the medium to use Yellowstone as a fictional setting. Movies have gotten in on the act as well. This includes movies that are just about the park as well as movies that were filmed in the park.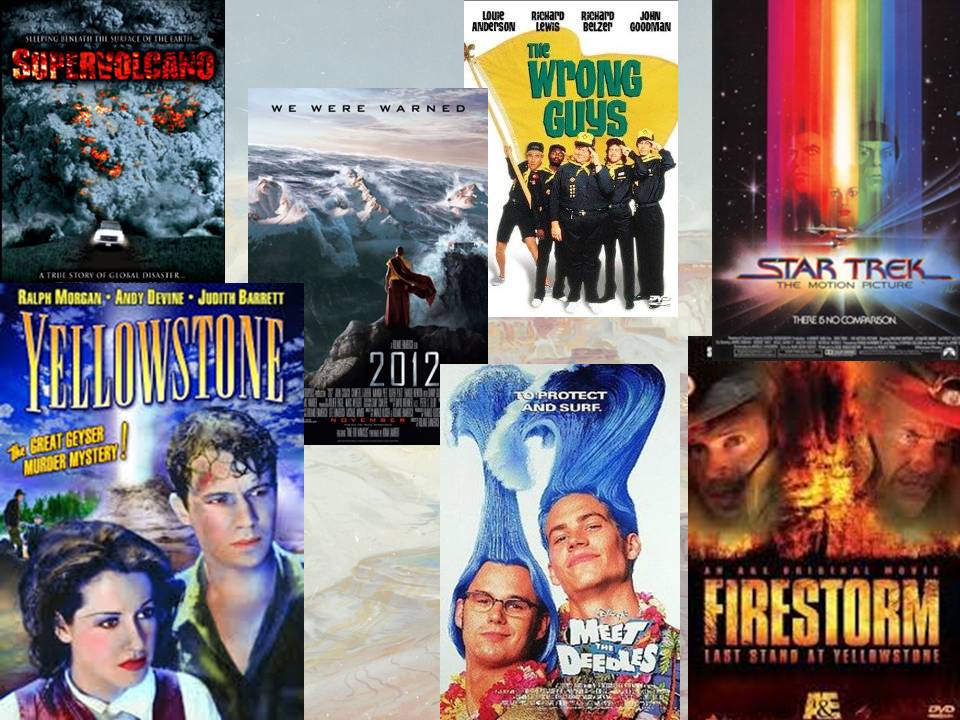 Supervolcano(2005)
A two-part BBC factual drama that asked: 'What if Yellowstone erupted?'
The movie starts out with title cards: The characters depicted in this film are fictional. The events are based on fact. Using the predictions and research of leading experts it portrays nature's rarest and most cataclysmic event… a supervolcanic eruption. This is a true story it just hasn't happened yet…
When this aired on television, a two-episode documentary followed the movie revealing the cutting-edge research that informed the drama.
Yellowstone(1936) Our young ingénue, Ruth Foster played by Judith Barrett, is nervous about meeting the father she hasn't seen in 18 years. When Henry Hunter, playing Ranger Dick Sherwood, meets her coming in to Gardiner, he arranges for a transfer to Old Faithful so he can flirt with her. Heavily.
This wasn't the first fictional movie filmed in the park, that honor belongs to "Heart of the Wilds" (1918) about bootleggers in Northwest Canada, but this was possibly the first movie set in the park
This movie is also available on YouTube
2012(2009)
The movie was based on the Mayan calendar which (supposedly) predicted the end of the world on December 21, 2012. It starts with the solar flares and rising temperatures causing the world to explode. Of course, the super-rich already knew this was going to happen and have prepared space ships (arks) that will get them off earth. The movie starts in Yellowstone when Jackson Curtis (Jon Cusack) takes his kids into an area that the U. S. Army has fenced off and they then meet Charlie Frost (Woody Harrelson) who broadcasts a radio show from inside the park.
The Wrong Guys (1988)-- Filmed in Grand Teton
Five former cub scouts have a reunion and go camping on the mountain they never conquered. High jinks ensue due to their childhood enemies and a group of escaped convicts who mistake them for an FBI unit.
Starring: Louie Anderson, Richard Lewis, Richard Belzer, John Goodman
Meet the Deedles(1998)
Two "surf bum" brothers from Hawaii mistakenly become rangers at Yellowstone National Park and must save famous geyser Old Faithful from being stolen by Dennis Hopper and Robert Englund.


Star Trek(1979)
The film is set in the twenty-third century, when a mysterious and immensely powerful alien cloud called V'Ger approaches Earth, destroying everything in its path. Admiral James T. Kirk (William Shatner) assumes command of his previous starship—the recently refitted USS Enterprise—to lead it on a mission to save the planet and determine V 'Ger 's origins.
This movie was the only one besides Yellowstone to be filmed in the park – if you've ever been to the Mammoth Terraces, you've stood on Vulcan.
Firestorm: Last stand at Yellowstone  (2006, TV)
This movie is a docudrama that starts off with two brothers hiking in the woods. They become trapped by an out-of-control wildfire and die horribly. Scott Foley is Clay Hardin, a fire researcher who has convinced the park that natural fires should burn naturally. His antagonist is Yellowstone fire chief, Richard Danville. He's also got a romantic interest in Ranger Annie Calgrove (Tanya Allen) who thinks that the fire chief is right. So, who will save the day?
 Previous post: Other Fiction books