One of the innovative aspects of Yellowstone's Archives Blitz program was the involvement of people from diverse professional backgrounds.  These participants not only included seasoned archives veterans but also individuals new to the field, and undergraduate and graduate students, volunteers, and National Park Service staff from allied professions such as museum curators. 
While this diversity no doubt added to the success of the program, by its very nature it challenged us to find a common language.  Archivists, like most professions, have a lexicon all our own.  For instance, the term "archive" is a noun and never a verb.  We do not "archive" anything.  Nor do we "catalog" records, but instead "process" them.  These differences many seem subtle, or even arbitrary, but are important in defining the archival profession.
By the time Yellowstone hosted its second team, it was already clear that we'd have to share with participants the meanings of some key terms in order for us to find some common ground and make the experience a success.  Here are some of those key terms.  The definitions were derived from the Society of American Archivists Glossary:
Appraisal: The process of determining the length of time records should be retained based on legal requirements and on their current and potential usefulness. 
 Archives: 1. Records preserved because of their enduring value or as evidence of the function and responsibilities of their creator.  2. A building housing archival collections.
 Arrangement: The process of organizing materials with respect to their provenance and original order, to protect their context and to achieve physical or intellectual control over the materials.
 Description: The process of analyzing, organizing, and recording details about the formal elements of a record or collection of records, such as creator, title, dates, extent, and contents, to facilitate the work's identification, management, and understanding.
 Enduring Value: The continuing usefulness or significance of records based on the administrative, legal, fiscal, evidential, or historical information they contain and justifying their ongoing preservation.
 MPLP: More Product, Less Process.  A methodology classified in 2005 which challenges traditional archival processing and many of the assumptions made about preservation and the level of arrangement and description necessary to allow researchers access to records.
 Processing: The arrangement and description of archival materials.
 Records Schedule: A document that identifies and describes an organization's records and provides instructions for their disposition throughout their life cycle.  Also known as a retention schedule. 
 Sampling: The process of selecting items from a collection to stand for the collection as a whole.
 Weeding: The process of identifying and removing unwanted materials from a larger body of materials.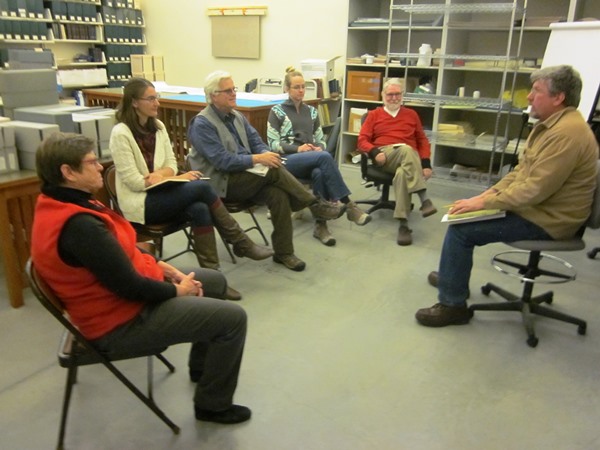 Participants in the archives blitz processing project discuss the next step, November 2014.