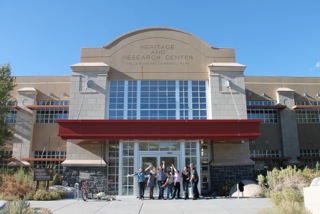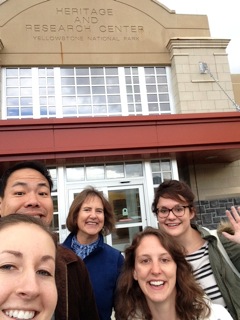 Team 1 at work in Yellowstone, 2014.

Last summer when I noticed the listing for the Archives Blitz project on the job board for my library science program at the University of Illinois, I knew immediately I wanted to participate. Not only would I get to spend the week exploring the park, but I would also experience firsthand the early stages of a processing project that could develop into a framework with implications for many other cultural heritage institutions.The National Archives Conference for Fraternities and Sororities was fresh in my mind, having been sponsored and held at the University of Illinois earlier in the summer. Illinois' Student Life and Culture Archives, where I work when I am not in Yellowstone, holds a large collection of Greek Life materials and hosts a conference for archives staff preserving the history of their organizations. The majority of these organizations operate solely with a group of volunteers and often these groups travel to national headquarters out of town for brief amounts of time to work on organizing these collections. These groups, and countless other cultural heritage institutions operating in similar situations, need solutions for utilizing a small number of people in a short time frame to efficiently process collections. In short, they need an Archives Blitz.
The project for the week was designed around setting a clear goal: completely assess, arrange and describe Record Group 6 Interpretation and Education. This group consisted of materials relating to a variety of education initiatives created and taught by the National Park Service in Yellowstone. We began the week by physically separating the materials in "categories" that would eventually evolve into our series within the record group. After working as a team through this process, we each moved into working individually on a particular series. I worked on youth programs, which meant I got to sort through lots of cute crayon drawings of bison as well as some great photographs from the Young Adult Conservation Corps, a program that materialized out of the CCC and was replicated in National Parks all over the country.
By the end of the week, each of the five participants had completed their collections and the record group was finalized. With much satisfaction, we placed the labeled boxes on the shelves and still had time to reflect on our experiences and provide feedback to archivists Shawn Bawden and Anne Foster. I felt a sense of accomplishment, I knew that I had learned a substantial amount about archival organization, and I was eager to see this project replicated elsewhere.
As a model for rapid, team-based processing, the Archives Blitz proved to be a success for the first team. Four more teams will participate between now and May, giving Shawn and Anne an idea of how different types of groups with varied levels of experience will handle the workload and what is needed to make a Blitz successful. Their findings will help other institutions recreate the Blitz with their own collections and volunteers.
Personally, I will be eager to see what they discover with the other groups. In the meantime, I plan to report my findings back to the archives in my own community to see how the framework can be adapted to meet our needs. I am honored to have been part of the inaugural Archives Blitz team and look forward to seeing the effect on other cultural heritage institutions.