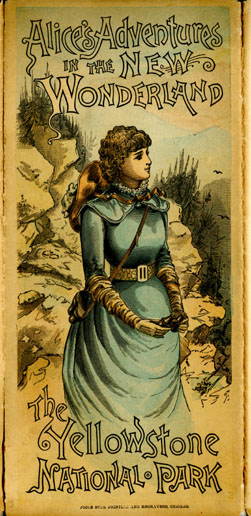 Cover of NPRR brochure, Alice's Adventures in the New Wonderland, 1885
The Northern Pacific Railroad (NPRR) was competing with the other railroads for tourism and they needed a hook to bring in more customers. In 1883, they began service to Yellowstone. The next year, NPRR started an annual publication devoted to enticing people to the park. It began with two issues entitled "Alice's Adventures in the New Wonderland."
Compared with the other park being widely advertised at the time Yellowstone could not be called beautiful (Yosemite and its abundant waterfalls had that market cornered). It was therefore promoted as a land of curiosities.
Yellowstone was known as "Wonderland" even before it became a national park, the first apparent publication of this name being in a series of articles by C. C. Clawson in 1871. This name was quickly picked up by many others, including E. J. Stanley ("Rambles in Wonderland") and Olin Wheeler (1883-1896 series, "Wonderland.")
NPRR grabbed onto the idea and expanded it. This brochure (the second issue, 1885) purports to be a letter written by the now grownup Alice (the opening sentence is "When Mr. Carroll wrote that funny book about one of my childish dreams…) who is traveling on the Northern Pacific, from Chicago. Alice describes to her friend, Edith, all of sights and stops along the railroad, including historical tidbits as well as painting a beautiful picture of the scenery. The author even throws in a plug for one of their other books, "Wonderland of the World," saying that even that book had not truly prepared the party for what they were about to see. The letter covers 14 sections of the brochure which starts out at about 22 x 10 cm. and then unfolds to 63 x 47 cm. The back side of the brochure is a map of the park.
Sources: America's history in the making (http://learner.org); All aboard - the role of railroads in protecting, promoting, and selling Yellowstone and Yosemite National Parks (http://xroads.virginia.edu/~MA96/RAILROAD/home.html ); Alice's Adventures in the New Wonderland (1886); Whittlesey, Lee H. Yellowstone Place Names (2006); Discovering Lewis and Clark: Rails to Wonderland (http://lewis-clark.org/content/content-article.asp?ArticleID=2700).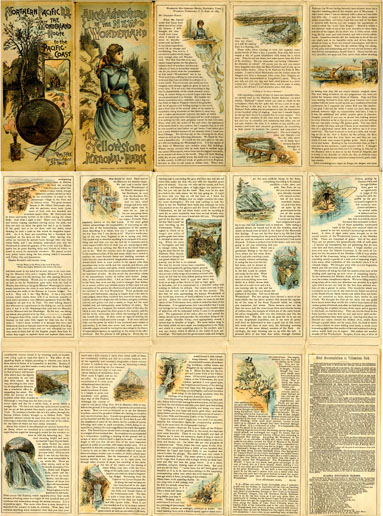 Complete NPRR brochure, Alice's Adventures in the New Wonderland, 1885