Archival materials provide insight into the past. But as much as they reveal details about long forgotten events and practices, they also demonstrate that much has remained the same. 
Several letters written in 1898, by a soldier stationed at Fort Yellowstone to his niece in California illustrate this dual function. Private Edwin Kelsey, who later became the editor of the San Francisco Chronicle, gives us a rare look at the daily life and work of the enlisted man at Fort Yellowstone-details lacking in the official records.At the same time, his descriptions of the beauty of Yellowstone's landscape and his pleasure in the quiet solitude of wilderness could have been written by many modern backcountry visitors.And Thanksgiving, 100 years ago, still meant a menu of turkey, cranberry sauce, and pie!
Riverside Station, Dec. 3 [1898]
My Dear "G"-
. . . Left here for the Post [Fort Yellowstone] the Sunday before Thanksgiving.It was a beautiful day when we started.It had snowed hard the day and night before and everything was covered with several inches of the "beautiful".I think that I've never seen anything look as beautiful as did the trees, most which are "Jack Pines", the same as that one in the yard at home.With their covering of snow they assumed all manner of grotesque shapes, some of them so lifelike that it required no very severe strain of the imagination to believe that they were really alive and that one was in Heaven and that they were angels, or in Hell and that they were imps.
I made 26 miles the first day, staying all night at Norris Station.The next morning it was 22 below zero, but I pulled out for the Post, which I reached about two PM after a cold hard ride of 20 miles.It is not much sport riding when the snow is so deep that your horse has to walk all the time.
Stayed at the Post for Thanksgiving dinner and it was a beaut.The cook more than threw himself. Had turkey, roast pork, sweet spuds, cranberry sauce, oyster stew, chocolate, three kinds of cake, pie, pickles, nuts and apples-how's that for soldiers?
I left soon after dinner and when I reached Norris-a little after 8 that night found no one there so was obliged to rustle around and make a fire and get my own supper.I was thinking, as I was riding along in the moonlight-there was a swell moon-how differently you were putting in the day.Am very anxious to learn the result of the game.
And so you don't see how I can find any enjoyment in such a place as this.Well I do.Of course I would like muchly to see you all and I think of Santa Cruz and the pleasant times I used to have there often.And at night when the "orchestra" plays some familiar air, it makes me wish that I could hear Flora sing.But despite your doubts to the contrary, there is something about this life in the wilderness that fascinates me. . . .
Love to all the family and Mable, and regards to friends. Edwin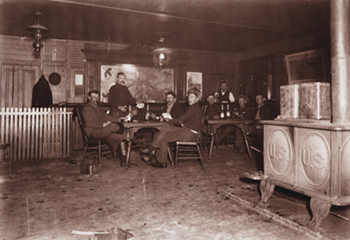 Soldiers relaxing with cards and drinks in the post exchange, Fort Yellowstone, circa 1900. Yellowstone Park Museum Collection, #YELL 36921.

Sources: Kelsey, Edwin.[Letters written from Fort Yellowstone], Library Vertical File Collection