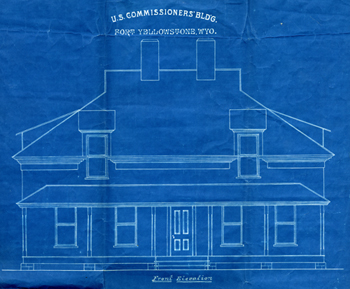 Architectural drawing, U.S. Commisioner's residence, Fort Yellowstone, ca. 1900.
One of the first things you see as you enter the Heritage and Research Center is a sign announcing the facility as an affiliate of the National Archives. Far more than a symbolic title, the affiliate status is both an honor and a responsibility. The best part is that it means all of Yellowstone's historic records remain in Yellowstone; the hard part is meeting the standards of the National Archives (NARA).
Yellowstone received affiliate status in 1978, not long after the park's archives were established. The affiliate program was established by Congress in 1950 and the U. S. Military Academy (USMA) in West Point, New York, became the first authorized affiliate in 1953. Today, there are nine affiliates: five federal agencies, three state agencies, and one university. Yellowstone is the only National Park that is an affiliate and one of only three affiliates that continue to actively add to their affiliate collections (the other two are the USMA and the U. S. Naval Academy). While the collections in the affiliates range from early Spanish land records to a cyber cemetery of defunct government websites, they all share one feature: the records are better understood and used when housed at the affiliated site. For Yellowstone, this means that the records pertaining to Yellowstone's unique resources can be studied while surrounded by the same unique features. It also means that the records created by the Park administration can be used at the same time as manuscript, or donated, collections from researchers, visitors, and concessioners. Having everything located in one place makes it easier for Park scientists, management staff, and other researchers.
For the archives staff, it also means that we have to meet the standards of the National Archives when caring for the collections. Having the Heritage and Research Center-a state-of-the-art collections facility-makes the task significantly easier. The security and preservation of the collections are greatly enhanced by a modern, specially designed building. Additionally, catalog records are added to the National Archives' Archival Research Catalog (ARC). Finally, we are inspected annually by NARA and make a report that details cataloging and preservation projects as well as use statistics. The new(ish) building and a major cataloging project called the Archives Initiative means that this year's inspection, completed this week, went very well (yay!).
So, next time you see the sign in the lobby, visit our webpage, or attend one of our tours, you'll know that the affiliated archives status is one more unique feature of a very unique place.
Sources: National Archives, "NARA's Affiliated Archives" webpage (https://www.archives.gov/locations/affiliated-archives/faq.html#who); Diane Vogt-O'Connor, "NARA's Oldest Partnerships," Prologue 38.2 (Summer 2006)( https://www.archives.gov/publications/prologue/2006/summer/affiliates.html); Susan Kraft, "The Yellowstone Archives and Its Affiliation with NARA," Cultural Resource Management 21.6 (1998) (https://crm.cr.nps.gov/archive/21-6/21-6-8.pdf)