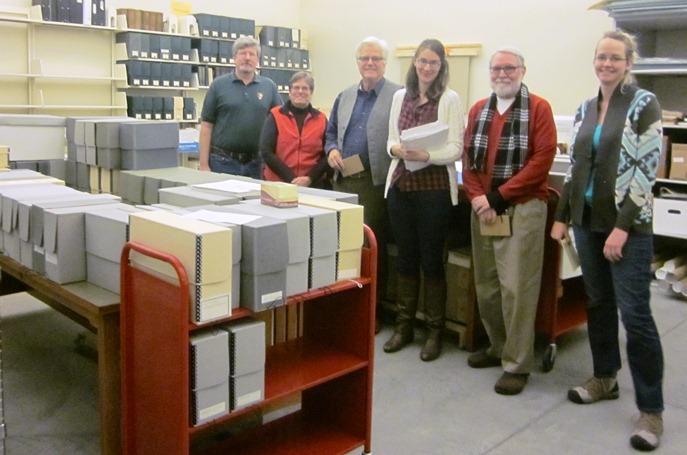 Archives Blitz Team 3: (l-r) Shawn Bawden, Victoria York, Charlie Pyle, Kelly Harman, Mark Miller, Amy Renfranz, November 2014.
When I received an email invitation to participate in the "Archive Blitz" I was immediately thrown back to when I attended Gardiner High School right next door. I had grown up in Silver Gate, graduated from eighth grade at the one room schoolhouse in Cooke City, and lived in Gardiner during the weekdays my freshman through senior year. I had visited the Heritage and Research Center when it had first opened and hadn't really understood its function or importance. What are archives? Is it like a giant library? And if it is, where are all the romance novels and classics?
I never would have guessed then that at age 25 I would be the director of the brand new Cooke City Montana Museum and a history nut. Let alone that I would find myself volunteering to work at the HRC for a week in the archives. I have to say, I am extremely happy with the transition. I absolutely love my current profession; it's been a roller coaster ride in educational experiences. Working on Team 3 of the Archive Blitz is definitely a highlight. The staff is wonderful, everyone willing to lend a hand, and most importantly listen! And I couldn't have picked a better team of participants to be a part of, I learned so much just listening to their experiences in life, and their love of Yellowstone. Being new to the concept of museums and archives, I am constantly searching for new resources of information both in conducting historical research and in the fundamentals of running a museum.
The Blitz brought all of this together. I loved the hands on approach to learning, and I feel there is much I can take away from this experience to use in my museum. The guided tours helped me to see that the HRC is an amazing resource, one I intend to use on a more regular basis. And what could have been better than spending my nights on Officer's Row in Mammoth? Now I understand both the function and importance of the Heritage and Research Center, and can't imagine being blind to it before. I'd say the Blitz is a success!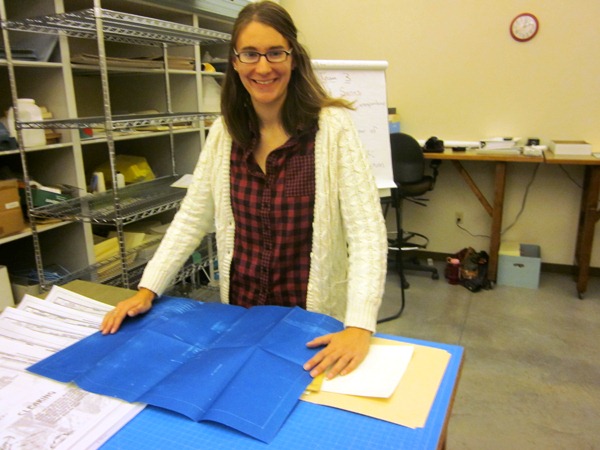 Archives Blitz Team 3 participant Kelly Hartman with a rare find, November 2014.