Subsistence Fishing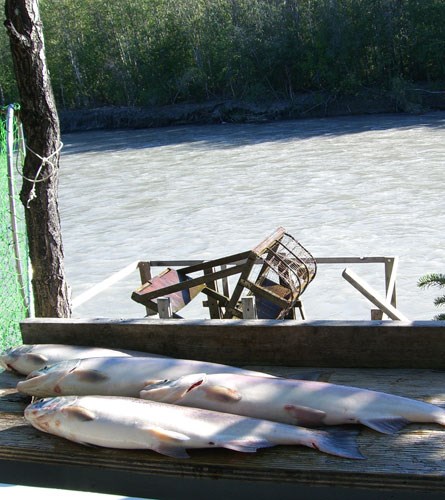 Both federal and State of Alaska subsistence fishing are permitted in Wrangell-St. Elias National Park and Preserve. State harvests are regulated by the State of Alaska while federal subsistence harvests are regulated by the Federal Subsistence Board. Federal regulations apply to inland waters within and adjacent to the park and preserve. Often federal subsistence and State of Alaska fishing occur simultaneously in the park and preserve.
View Copper River subsistence harvest records from 2002-2010.
pdf format, 40 KB

A state fishing license is required for sport fishing in the park and preserve. No fishing license is required for subsistence fisheries, but some fishing management areas may require permits or harvest tickets. Federal subsistence fishing permits are available in park visitor centers.
Are YOU eligible for federal subsistence fishing?
The Alaska National Interest Lands Conservation Act (ANILCA) provides a preference for local rural residents over other consumptive users should a shortage of subsistence resources occur and allocation of harvest becomes necessary. If the harvest must be limited, state subsistence and general fishing opportunities must be restricted first before any reduction in the harvest for federal subsistence users occurs.
Fish of Wrangell-St. Elias: Find out about the types of fish that are in Wrangell-St. Elias National Park & Preserve. You can find out about the fish weirs and salmon counts too!
The National Park Service office in Copper Center provides a recorded message phone with the most current fishing schedule. The recorded message is available 24-hours daily. Subsistence users are encouraged to call this number prior to fishing to determine if amendments have been made to previously announced fishing schedules.
Subsistence Fishing Hotline:
907-822-7256


Last updated: February 23, 2021