Nature & Science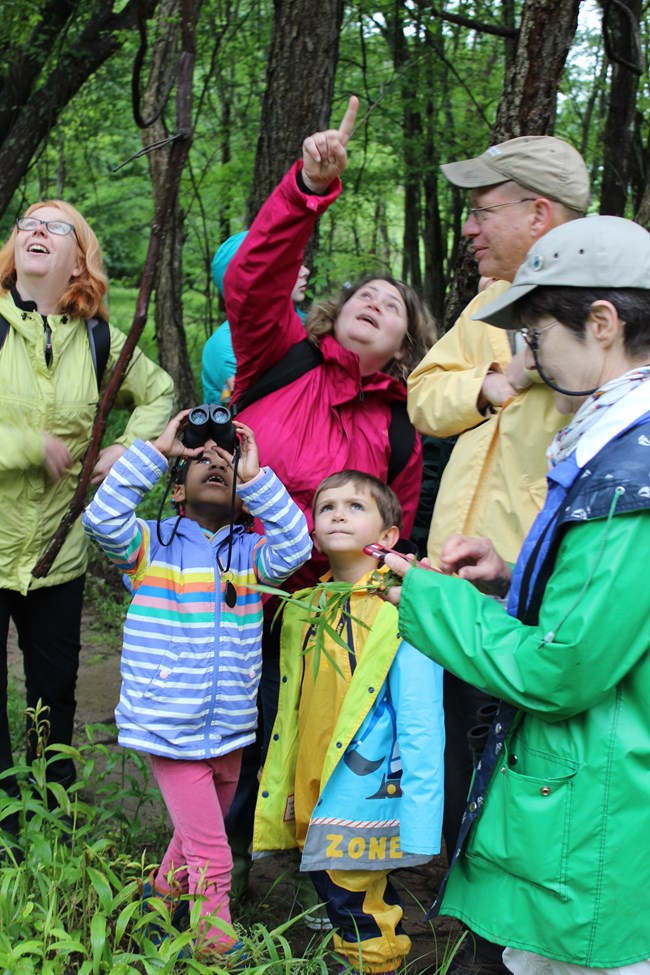 Well known for its magnificent Filene Center and world-renowned performances, Wolf Trap National Park for the Performing Arts also provides a natural oasis in the midst of an increasingly urbanized northern Virginia. Less than half of Wolf Trap's land is developed, leaving about 65 acres of woodland, streams, and wetland with a wide variety of plants, animals, birds, and wildflowers. Wolf Trap's natural areas add critical green space in a dense suburb, provide refuges for many species, act as a migration rest stop for wildlife, and serve as a living biology classroom for the surrounding community.
Through the National Park Service's Inventory and Monitoring Program, efforts are underway to determine exactly what plants and animals are currently present at Wolf Trap. Over the next few years, trained professionals will systematically survey for flora and fauna. The survey data will provide the baseline information needed to develop strategies for managing the park's flora and fauna. Species lists included here may change overtime as more data is gathered and confirmed. Visit the Integrated Resource Management Applications (IRMA) Portal for easy access to National Park Service applications that manage and deliver resource information.
Exploring Natural Communities
-
A natural community is a combination of native plants and animals repeatedly occurring together in a particular natural environment that has experienced minimal human-caused disturbance or has recovered from that disturbance
. In partnership with Nature Serve, several National Capital Area parks have developed a new website called "
Explore Natural Communities
" to showcase what flora and fauna exist in these parks.
Using Citizen Science in Support of Resource Management in a Small Urban Park
Wolf Trap National Park for the Performing Arts is taking great strides to enhance the biodiversity found within the Park. Through the planting of a Native Meadow, the expansion of 'no-mow zones', and the planting of more native trees and shrubs throughout the property, park managers are actively increasing habitat for native pollinators and birds.
In 2013, the park initiated an All-Taxa Biodiversity Inventory (ATBI) with bee and wasp, butterfly and moth, and bird surveys. These surveys were carried out with the help of volunteer "citizen scientists" and in collaboration with the Audubon Society of Northern Virginia (birds), the USGS (bees and wasps), and independent researchers (butterflies and moths). We have documented 45 species of bees, 18 species of wasps, 25 species of butterflies, four species of moths, and 128 species of birds.
The systematic surveys not only generate valuable information for resource management, but also engaged approximately a dozen volunteer scientists in meaningful experiences. Efforts at Wolf Trap highlight the value of training volunteers in the implementation of scientific protocols at the park and the role of "citizen science" in supporting resource management, civic engagement, and education and outreach efforts in national parks.
If you are interested in being involved in documenting the diverse flora and fauna of Wolf Trap National Park for the Performing Arts, please contact the volunteer office at (703) 255-1893 or by e-mail. You may also be interested in learning about and joining the Friends of Wolf Trap.
Researching Nature at Wolf Trap
Wolf Trap is a natural oasis for visitors and for scientific researchers because of its protected natural landscape. The research done here provides the accurate and current natural resource information we need to provide to best care for the park. Scientists look at what key resources are present in the park, if they are stable or changing, how ecosystems are changing over time, and how much change is normal.
Like a physician monitoring a patient's heartbeat and blood pressure, National Park Service ecologists with the National Capital Region Inventory & Monitoring Network collect long-term data on forest vegetation, bird and amphibian communities, water quality, and other key resources at Wolf Trap, analyze the monitoring results, and share them with the park.

Read more in the articles below about researchers studying nature at Wolf Trap and nearby national parks.


Last updated: October 28, 2022