Alerts & Conditions
COVID-19 Update: Park Operating Status
The following order, issued by the Superintendent under 36 C.F.R. § 1.5(a)(2), amends the Wolf Trap National Park for the Performing Arts (WOTR) Compendium dated September 23, 2019, and posted online at
Compendium - Wolf Trap National Park for the Performing Arts
. This order will remain in effect until modified, revoked, or superseded by a subsequent order issued by the Superintendent.
Individuals over the age of two years, who are not fully vaccinated must wear masks, except when actively eating or drinking, in the following locations
:
1. All common areas and shared workspaces in buildings owned by the National Park Service, including, but not limited to interior spaces of the Filene Center, visitor contact station, and park offices and work spaces.
2. The following outdoor areas, when others are present, where the superintendent has determined that physical distancing (staying at least six feet apart) cannot reasonably be maintained include but are limited to: trails, sidewalks and walkways, picnic areas and tables, and parking lots.
Masks must cover the nose and mouth and fit snugly around the nose and chin with no large gaps around the sides of the face. Masks not designed to be protective, masks with ventilation valves, and face shields do not meet the requirement.
In accordance with guidance from the CDC and recommendations from state and local public health authorities in consultation with NPS Public Health Service Officers, the following closures are in effect:
Ranger Station (Park Visitor Contact Station)
Park Headquarters
Public restrooms located in the Barn.
Public restrooms located at the Main Gate of the Filene Center are open to the public, effective
Friday, July 3, 2020.
The park remains otherwise accessible. Updates will be posted on this page and to the park's social media channels. For more information please visit the
National Park Service Public Health Update
page.
Partial Park Closure, Effective December 14, 2020
Due to various maintenance and construction projects, the following areas of the park will be closed to all visitors for public safety until further notice:
All decks (Ovations, Associates, Terrace, and Encore Circle)

Barn Road

Gil's Hill Parking Area

Encore Hill Parking Area
Parking Lot 3

Upper sidewalk leading from Meadow Kiosk to Ovations Restaurant
We apologize for this inconvenience. To access the Meadow and picnic areas, visitors must park on the circle in front of the Main Gate of the Filene Center, and follow the paved path alongside the Park Headquarters building.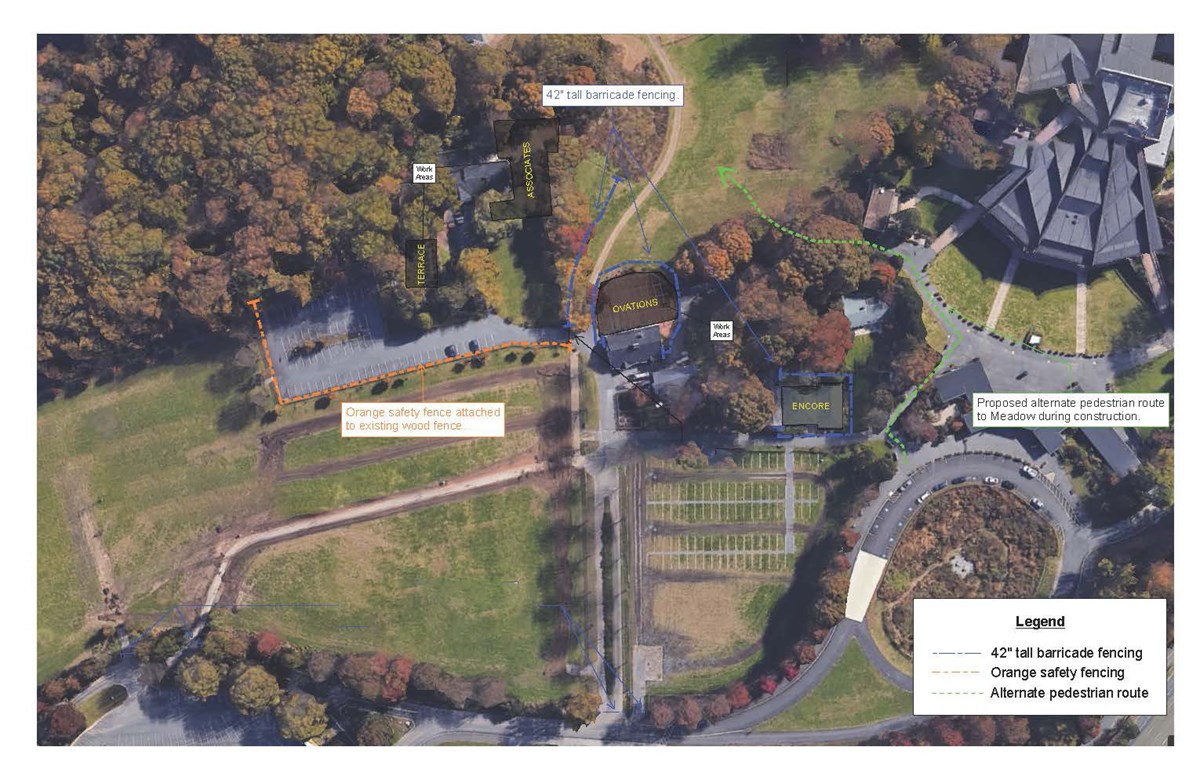 Last updated: June 7, 2021