Catherine Filene Shouse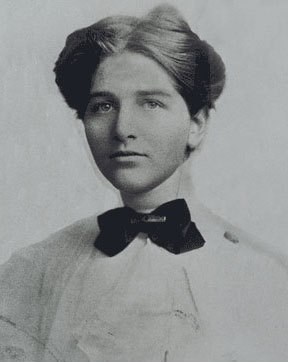 Catherine Filene Shouse, a philanthropist and avid lover of culture, music, the arts and nature had a compelling vision to develop and share this love with the community. Shouse was instrumental in the establishment and development of Wolf Trap National Park for the Performing Arts, a one-of-a-kind, unique experience and her vision which she saw realized.
Childhood
Catherine Filene was born on June 9, 1896, in Boston, Massachusetts, to Abraham Lincoln and Therese Filene. She spent her childhood between the family homes in Boston and Weston, Massachusetts where the Filenes were able to enjoy nature. Born into a family whose fortune was built from the famous department store, Filene's, their family tradition was laden with a love of nature and for the arts. Her father was the founder of the Boston Symphony and her mother started the Boston Music School Settlement for Underprivileged Children. Her parents' love of the arts was infectious and resonated with Catherine which helped to shape Filene Shouse's ultimate vision for Wolf Trap.

Catherine would later marry Jouett Shouse who supported her endeavor and her cultured life was one she was eager to share. Catherine led a rich life dedicated to public service and was a strong proponent of women's rights.
Home Away From Home
Mrs. Shouse began acquiring farmland outside of Washington, DC in 1930 for use as a refuge from city life and a departure from the family's primary residence in historic Georgetown. The family estate started out in a traditional manner as a working farm with crops, animals and dog breeding. The family grew such crops as alfalfa, oats, and wheat for family and friends, but during World War II, Wolf Trap Farm fed and served as a refuge for many soldiers.

By 1956, Wolf Trap Farm was comprised of 168 acres. The highlights were the social gatherings for family, friends, and the Washington, DC social and political communities. Wolf Trap frequently hosted notable foreign and domestic political figures. Guests enjoyed such events as dinners, parties, dances, carnivals, and simple nature walks in the countryside which helped inspire Mrs. Shouse to develop the land into a cultural oasis.

Mrs. Shouse also had a desire for her children to develop an appreciation for and a relationship with nature and animals as she had at the family home in Weston, Massachusetts.
Love For The Arts And Nature
Catherine Filene Shouse had an ardent love and passion for the arts and was very involved. She was a volunteer fundraiser for the American Symphony League which is now the National Symphony Orchestra. Candlelight Concerts in Washington, D.C., were organized and sponsored by Shouse from 1935 to 1942 in order to supplement the National Symphony Orchestra's salaries. From 1957 to 1963, Mrs. Shouse served as chair of the President's Music Committee Person-to-Person Program. The program produced national and international performances each year and under her direction, they produced the first International Jazz Festival in 1962.
The Gift
Mrs. Shouse, at the age of 71, on October 15, 1966 donated nearly 100 acres of her personal farm land to the United States Department of the Interior, as well as the funds to build the large outdoor amphitheater, now known as the Filene Center. This land was donated with the express intent to develop the Wolf Trap National Park for the Performing Arts. Mrs. Shouse's goal was to protect the land from encroaching roads and suburbs, as well as create a natural backdrop where the arts could be enjoyed in harmony with nature. Congress accepted Mrs. Shouse's gift and the ground-breaking ceremony took place in 1968.

The picturesque Filene Center, named after Shouse's parents, blends nature and music, as it is a state-of-the-art music venue constructed of Douglas Fir and Southern Yellow Pine. The Filene Center opened its doors and hosted its first performance in 1971.

On April 4, 1982, the Filene Center experienced a devastating fire that required a complete reconstruction of the revered performing arts venue. Largely due to the generosity of Catherine Filene Shouse, the Filene Center was rebuilt and reopened its doors in 1984, and continues to host hundreds of thousands of guests each year.
The Filene Center, 1982 vs. 2019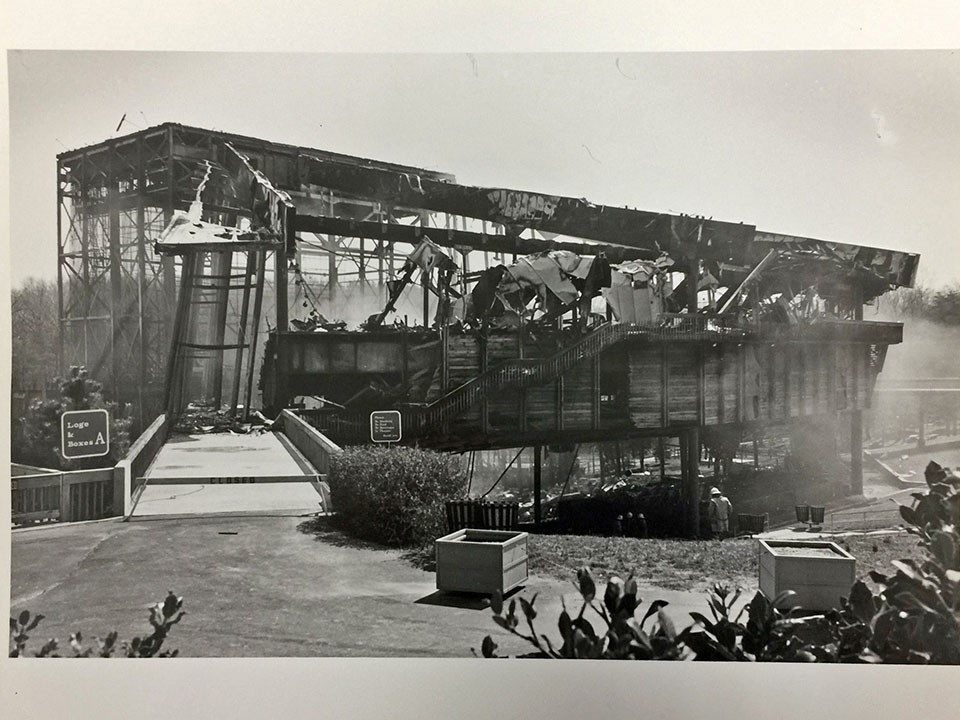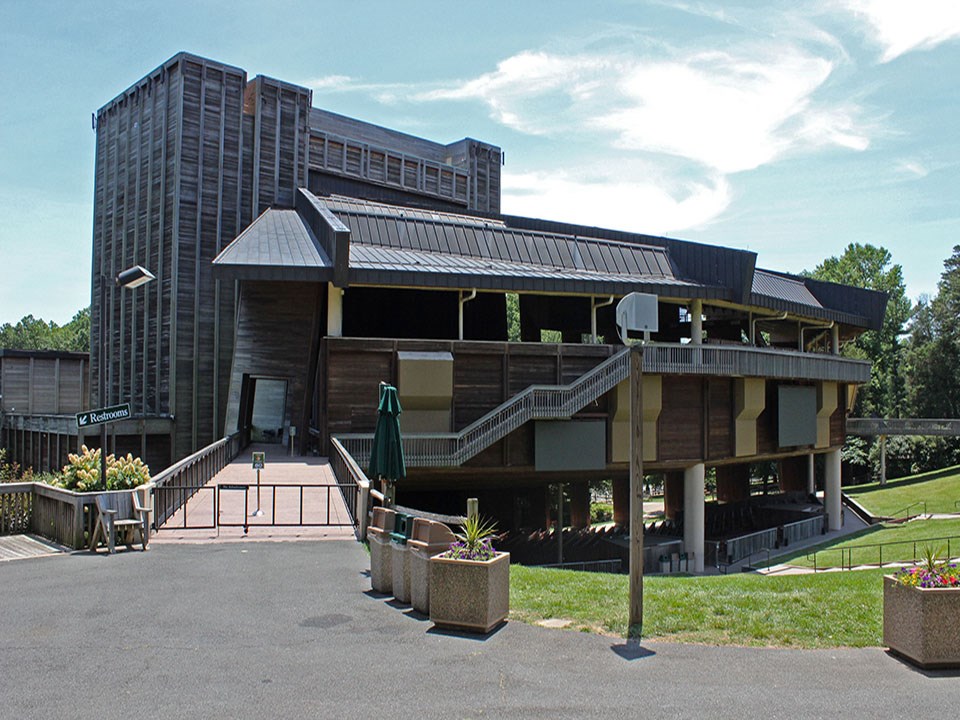 Left image
The Filene Center, after a destructive fire on April 5, 1982.
Credit: NPS Photo
Right image
The Filene Center, June 2019.
Credit: NPS Photo
In 1981, Mrs. Shouse donated another venue to house smaller acts, which is owned and managed by the non-profit Wolf Trap Foundation. She had two 18th century barns from New York brought to Virginia and rebuilt in a manner that kept their rustic charm but offered superb acoustics and amenities.

Together, the 2 structures now make up The Barns at Wolf Trap, which present more than 80 performances each year from fall through spring. Wolf Trap is also home to the Wolf Trap Opera in the summer. A composers cottage was built south-east of the Filene Center. The cottage was to be a place where artists could spend time being inspired by their surroundings. However, the cottage burned to the ground in 1979 and was never rebuilt.

Mrs. Shouse had a soft spot in her heart for children. The Children's Theatre-in-the-Woods was established as an opportunity for children to be immersed in the natural, artistic environment. During Shouse's life, Wolf Trap was enjoyed by countless people from many nations and backgrounds. She often brought disabled and disadvantaged children from the Nation's Capital to Wolf Trap to enjoy the scenery, change of environment and to give them hay rides.
Legacy

Wolf Trap National Park for the Performing Arts is the first and only national park of its kind. Wolf Trap is operated as a public-private partnership between the National Park Service, which maintains the grounds and facilities, and the non-profit Wolf Trap Foundation. The Foundation oversees the artistic, education, and administrative programs including artist contracts.

Mrs. Filene Shouse's great contribution and legacy lives on through the gift of Wolf Trap. She was a highly decorated public servant, a celebrated and accomplished woman with deep roots in the nation's capital – having worked with every President from Woodrow Wilson to Bill Clinton and as President Reagan put it, Wolf Trap is "a park for all people…one that enriches the cultural life of our nation." Mrs. Shouse lived most of her life in and around Washington, DC. Although she was a prominent member of the Washington DC society scene, she cared as much about making the performing arts accessible to people of all ages, backgrounds and incomes as she did about national and international political affairs.

Mrs. Shouse, a true visionary, was active and involved with Wolf Trap to the end of her life, she passed away just prior to turning 100 in 1994. She wanted people to be able to enjoy Wolf Trap well beyond her lifetime. Her legacy lives on as it is America's National Park for the Performing Arts.
Last updated: May 6, 2021