Become a B.A.R.K. Ranger!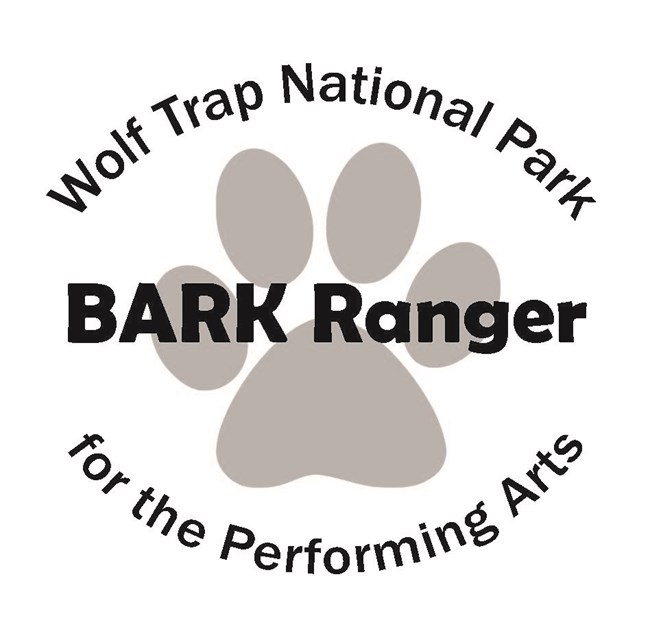 National parks are exciting to visit with your pet, and Wolf Trap National Park for the Performing Arts is no exception! Exploring these special places with your dog comes with a particular set of responsibilities.

To have a safe and enjoyable visit, follow the B.A.R.K. Ranger core principles:
Bag your pet's waste
Keep Wolf Trap clean by bagging and properly disposing of your dog's waste. Pet waste contains chemicals that can have adverse effects on wildlife and pollute waterways. For your convenience, there are trash cans around the entrances of the trails to dispose of pet waste.
Always leash your pet
Pets must be always kept on a leash no longer than 6 feet while in the park. Leashes protect your dog from becoming lost, getting too close to others, and disturbing (or being disturbed by) wildlife. There are some snakes around the Wolf Trap trails and it is important for dogs to be able to be pulled away or steered around snakes on the path, so they don't get bitten.
Respect wildlife
Dogs can threaten wildlife by scaring them away from nesting, feeding, and resting sites. The scent left behind by a dog can signal the presence of a predator, disrupting or altering the behavior of park wildlife. Small animals may hide in their burrow the entire day after smelling a dog and may not venture out to feed. Always keep a safe distance from wildlife; remember that the park is their home, and we are just visiting.
Know where you can go
Pets are allowed on all trails at Wolf Trap National Park for the Performing Arts. Make sure to stay on the marked trails, since going off the path may increase the risk of ticks for you and your pet as well as cause damage or erosion to the environment. Heed the Restoration Area signs and please do not go past them.
Pets are not allowed in ticketed areas of the parks (i.e., inside of the Filene Center gates and in Children's Theatre-in-the-Woods). These areas are still off-limits to pets even if they are carried in a bag or a purse or being pushed in a stroller. Qualified service animals are the only animals permitted within these areas. For more information, you can view the National Park Service's page on service animals.

Pet safety notes
Never leave your pet in your car unattended. Temperatures in cars can quickly rise and become unsafe for pets left in your car, even if the windows are cracked.
While most of our trails are shaded, remember that asphalt in the summer is especially hot to your dog's paws. An easy tip to test if the asphalt is too hot for your dog is to place the back of your hand to the ground. If you can't leave it there for more than 5 seconds without being uncomfortable, then it is probably too hot for your dog.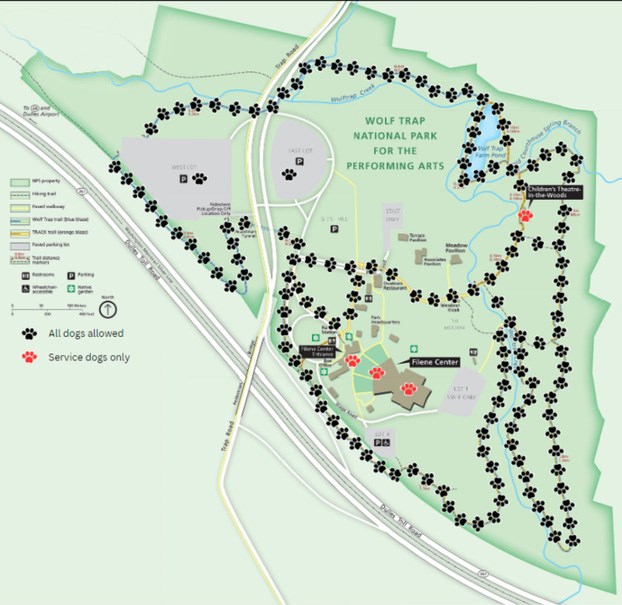 To be a B.A.R.K. Ranger at Wolf Trap, have your human learn the Core Principles, sign the B.A.R.K. Ranger Pledge, and complete one of the activities below. Then see a Park Ranger to receive your special Wolf Trap B.A.R.K. Ranger collar tag!

Choose an activity:
Take your canine partner on a walk through one of Wolf Trap National Park for the Performing Arts' beautiful trails. Learn more about the trails.
Tell your friends or family members with dogs how to follow the B.A.R.K. Ranger Core Principles when they visit any National Park.
Take a photo of your dog at Wolf Trap following the B.A.R.K. Ranger Core Principles, post it to social media, and tag us using the hashtag #WolfTrapBARKRanger.
Facebook: @wolftrapnps
Twitter: @Wolf_Trap_NPS
Instagram: @WolfTrapNPS
Take the B.A.R.K. Ranger Pledge!
I, _______________________, and my human companion _______________________ pledge to follow the B.A.R.K. principles when on national park lands. We understand where in the park we can explore, that we must always stay on leash, and we will act as good role models for other pets and owners in the park.
Last updated: May 15, 2023