Outdoor Activities
There are two overlapping trails in the park that provide opportunities for visitors to hike and bird watch. Trail maps are available at the Ranger Station and available for download. Follow the blazes or posts to navigate the trails. Please note that swimming, wading, hunting, and camping are not permitted in the park.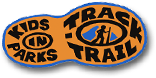 Wolf Trap TRACK Trail (approximately 1.5 miles)
Winding through the woods and over Wolf Trap Run, the TRACK Trail is a great way to explore the outdoors. This orange-blazed trail is oriented for children and families, but is also great for those interested in a more leisurely hike. The trail head and self-guided adventures can be found in the Meadow, but the hike can be started from any point on the map (PDF, 268 KB) and by following the footprints or logos. Complete the adventure(s) and track your hike at http://kidsinparks.com/wolf-trap-national-park-performing-arts to earn free prizes.
TRACK Trails is made possible by a partnership with Blue Ridge Parkway Foundation's Kids in Parks program.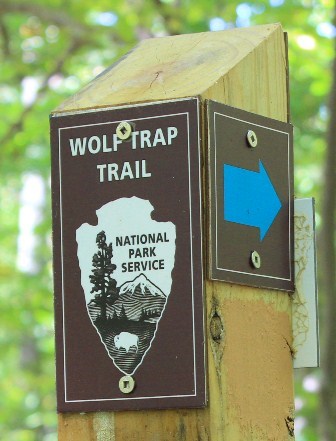 Wolf Trap Trail (approximately 2.5 miles)
This trail takes hikers around the less developed perimeter of the park and features portions of woodland and wetland areas. The trail was developed and is maintained by Potomac Appalachian Trail Club (PATC) (http://www.patc.net). The trail can be started from any point of the map and by following the blue blazes. Green blazed shortcuts allow hikers to shorten the hike or visit Theatre-in-the-Woods. Download a brochure of the Wolf Trap Trail (PDF, 955 KB).
First Sunday Wolf Trap Hikes: Walk and Learn
Join trail volunteers and staff for a free guided hike on the first Sunday of each month for Wolf Trap First Sunday Hikes. The hikes start at the Filene Center Main Gate (Box Office) and last about 1.5-2 hours. Select walks will focus on different topics: history, biodiversity, wild flower and woodland shade gardens, birds, and general flora and fauna. Times and topics vary and traditionally follow the Wolf Trap Trail loop (2.7 miles). Please dress appropriately for a hike and weather.

June 2, 9 am - Bluebirds of Happiness Trail Walk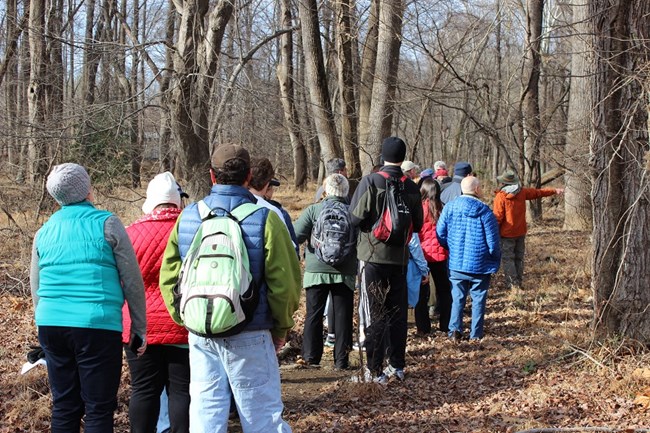 Wolf Trap's First Day Hike
Looking for a fun way to start off your New Year? Whether you have New Year's resolutions or not you can help us start the new year on the right foot. Join trail volunteers for Wolf Trap's First Day Hike on January 1, 2019 at 1 pm. The hike will start at the Filene Center Main Gate (Box Office). Please dress appropriately for the weather and a hike.
"First Day Hikes are part of a nationwide initiative led by America's State Parks to encourage people to get outdoors. On New Year's Day, hundreds of free, guided hikes will be organized in all 50 states. Kids and adults all across America will be participating in First Day Hikes, getting their hearts pumping and enjoying the beauty of a state park.... Last year nearly 55,000 people rang in the New Year, collectively hiking over 133,000 miles throughout the country on the guided hikes. Numerous others hiked state park trails throughout the day." Learn more about First Day Hikes at America's State Parks website.


Last updated: May 29, 2019