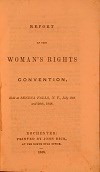 How did five women manage to organize and accomplish the 1848 First Women's Rights Convention held in Seneca Falls, with just ten days notice?
They had help! As part of a community of social reformers and abolitionists they turned to their friends and allies, knowing they would respond to their call.
On Sunday July 9, five reform-minded women met at the home of Jane Hunt and in the course of their day together, they concluded to hold a convention "to discuss the social, civil, and religious rights of Woman."