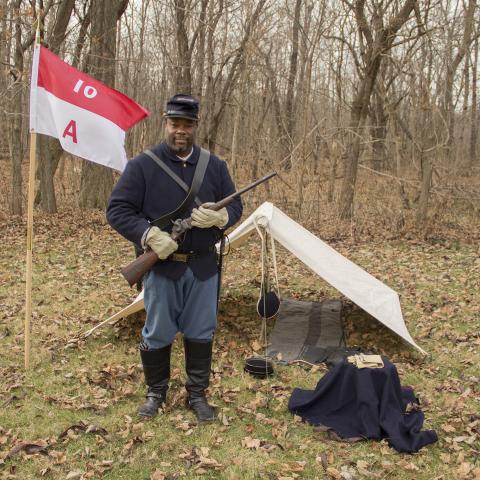 News Release Date:
February 20, 2017
Contact: Reggie Murray, 513-684-3262
Commemorating Black History Month 
William Howard Taft National Historic Site will celebrate Black History Month with a presentation of 'The Life and Times of a Buffalo Soldier".  Buffalo Soldier is the nickname given to members of African-American cavalry army regiments who served in the American West from 1867 to 1896. Born in Clermont County, Edgar R. Aston served in the Civil War, and remained in the army after the war to be posted on frontier duty. On February 25th, 2017@ 1 :00 p.m., come and hear about his adventures in the Civil and Apache Wars. Edgar R. Aston will be portrayed by National Park Ranger Reginald Murray.
Event begins at the Taft Education Center, located at 2048 Auburn Avenue, one block south of the Christ Hospital. Free parking is available in front of the Taft Education Center and additional parking is located in our overflow parking lot located off of Southern Avenue. A visit to the park includes a free ranger guided tour of our nation's 27th President and 10th Chief Justice of the United States, William Howard Taft's boyhood home, self-guided exhibits, and an introductory video on Taft's life and career.
Learn more about William Howard Taft National Historic Site by visiting the
History and Culture
section of the website.