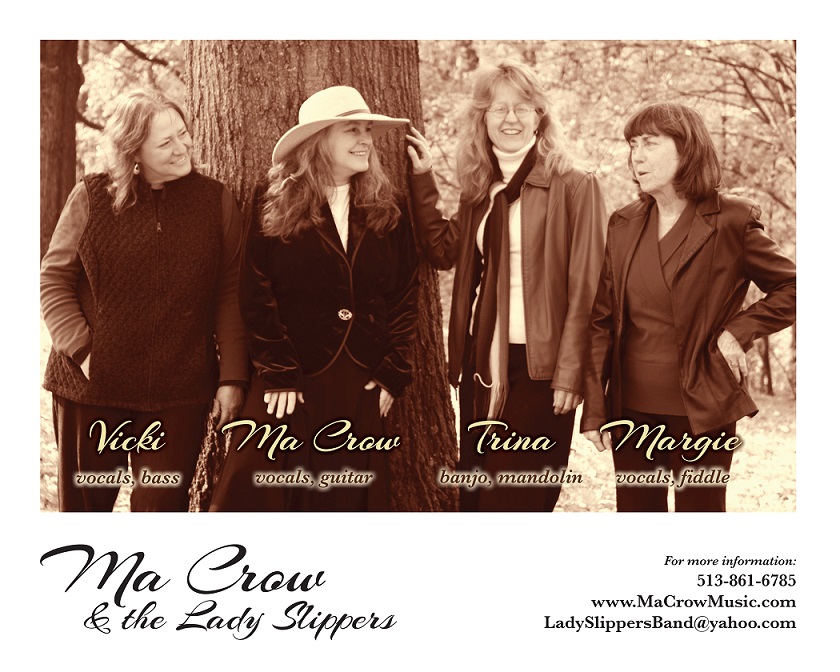 News Release Date:
June 12, 2014
Contact: Ray Henderson, 513-684-3262
Free Concert & Ice Cream Social  
Date: July 4, 2014
Time: 1:00 pm - 4:00 pm
Location: Taft Education Center @ William Howard Taft NHS
Fees: none
William Howard Taft National Historic Site will host an Ice Cream Social with music by Ma Crow and the Lady Slippers. The annual social will be held on the grounds of the birthplace and boyhood home of the nation's 27th President and 10th Chief Justice.

Ma Crow and The Lady Slippers is an all-female Bluegrass/ American/ Mountain-Music band from Cincinnati, Ohio, and a 3-time nominee for the Cincinnati Entertainment Awards. Ma Crow is a legendary acoustic artist in the Cincinnati area and a CAMMY (a Cincinnati Grammy) award winner.From ballads to bluegrass and old-time contemporary, this beautiful acoustic music is filled with artful instrumentals and sweet mountain harmonies. The band values every show and strives to make each one special, knowing that music is a treasure and a gift to be shared.Come enjoy a performance by this popular band and receive free ice cream.
A visit to the site includes a Ranger guided tour of the Taft home, self-guided exhibits and an introductory video on Taft's life and career. Tours of the boyhood home will be conducted throughout the day from 8 a.m. to 4 p.m. All activities are free and reservations are not required.
Events begin at the Taft Education Center, located at 2038 Auburn Avenue, one block south of the Christ Hospital. Free parking is available in front of the education center or an overflow lot on Southern Ave. Call 513-684-3262 for accessibility assistance and information. Visit the Directions page for information on directions and transportation to the park.