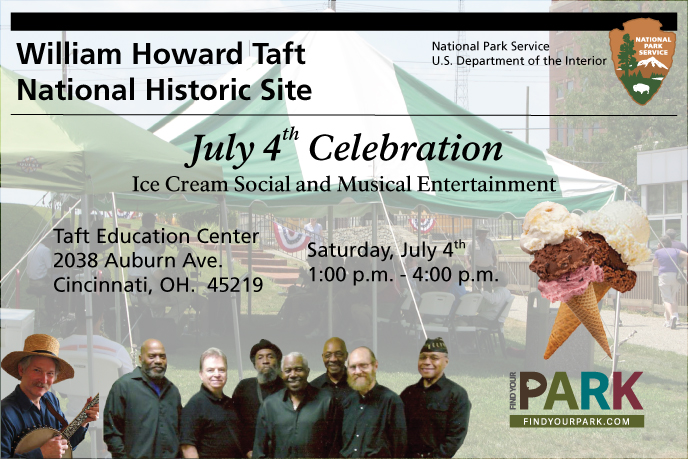 News Release Date:
June 9, 2015
Contact: Reggie Murray, 513-684-3262
Ice Cream Social and Musical Entertainment
Featuring Live Performances by Greg Jowaisas and Jazz Renaissance  
Date: On Saturday, July 4th
Time: 1 to 4 p.m.
Location: William Howard Taft NHS
Fees: No Fees
William Howard Taft National Historic Site will host the park's Annual Ice cream Social featuring live music and performances by folksinger and story teller, Greg Jowaisas, and live music by Jazz Renaissance. Our Annual Ice Cream Social and Fourth of July Celebration will be held on the grounds of Taft's birthplace and boyhood home – the home of our nation's 27th President and 10th Supreme Court Chief Justice.
Come join us at the park on the Fourth of July and enjoy free ice-cream and performances by two popular performers.Greg Jowaisas will perform late 19th and early 20th century folk music and storytelling. Thirty years ago Greg Jowaisas left his noble teaching profession to follow the call of the wild mountain banjo and made his infatuation with old-time music his full-time career. Jazz Renaissance is a seven-piece jazz group, formed in November, 2010. This jazz group plays modern jazz in many styles, including bop, swing, and Latin. They have played at many local venues and events including the Blue Wisp, Whiskey Bar, Juneteenth Celebration at Drake Park, and Black Family Reunion.
Events begin at the Taft Education Center, located at 2038 Auburn Avenue, one block south of the Christ Hospital. Free parking is available in front of the education center and at the parking lot on Southern Avenue. Please call (513) 684-3262 for accessibility information and assistance. A visit to the park includes a free ranger guided tour of William Howard Taft's boyhood home, self-guided exhibits, and an introductory video on Taft's life and career.
Tours will be conducted throughout the day from 8 a.m. to 4 p.m. All activities are free and reservations are not required. Driving directions, a map, calendar of events, and other useful information can be found on the
Directions
page. Plan your visit soon!