Date:
January 11, 2018
Contact:
Christian Davis/Sirena Bock, 870-777-4455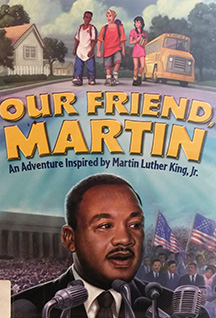 Turn your day off into a day ON! 

Participate in a fun and educational activity that celebrates the life and legacy of Dr. Martin Luther King Jr. 
Monday January 15, 2018 at 2:00pm
join Park Rangers for a book reading and screening of the animated film "My Friend Martin". The book
Martin's Big Words
written by Doreen Rappaport and illustrated by Bryan Collier will be read aloud. This picture-book biography is an excellent and accessible introduction for young readers to learn about the life and legacy of Dr. Martin Luther King Jr. and how he excelled in the areas of ministry, education, and equality. 
"My Friend Martin" is a 60 minute animated film about Dr. Martin Luther King Jr. and his pursuit of his dreams. Follow teenage best friends Miles and Randy as they attend a class field trip to the Dr. Martin Luther King Jr. National Historic Site [now National Historical Park] in Atlanta. Starring the voices of Oprah Winfrey, Angela Bassett, Danny Glover, Whoopi Goldberg and more. 
After the book reading and movie screening participants can create visuals for their personal dreams for uplifting their communities. The dreams will be placed on cardboard cutouts of hands in the shape of peace signs and place on a temporary display inside the historic site's visitor center through the month of January. 
For more information call (870) 777-4455 or visit us on the web at www.nps.gov/wicl. 
The Event is FREE and Open to the Public.