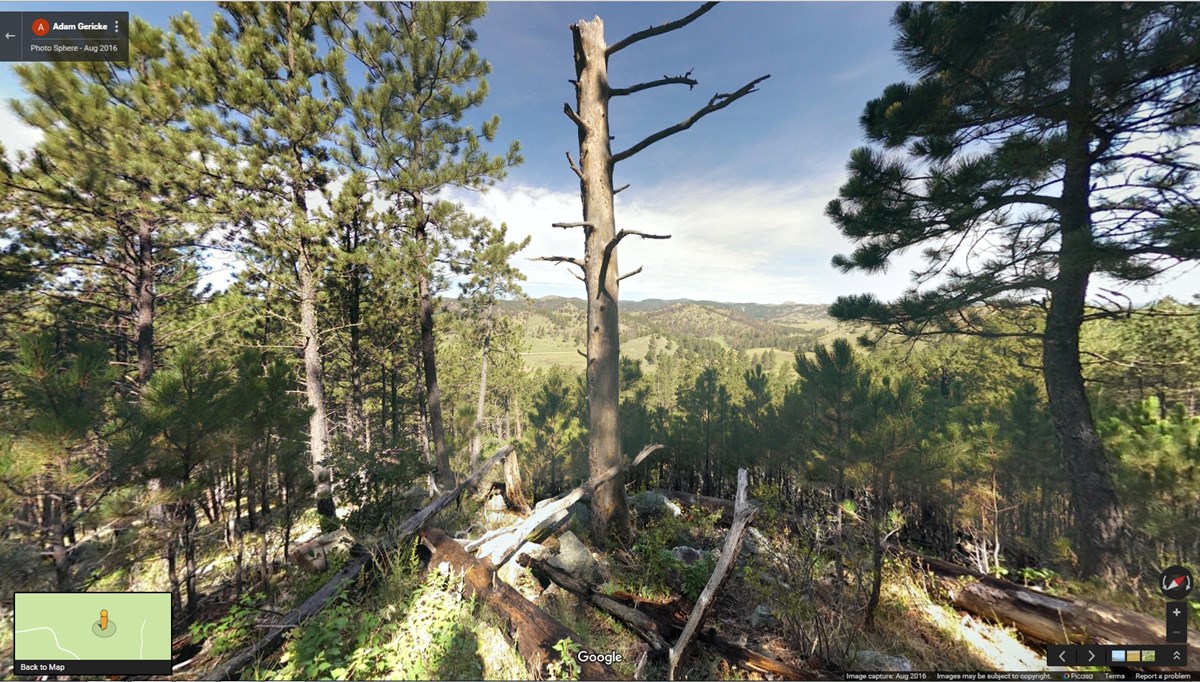 Area Description: The first overlook of this hike offers a gorgeous view and a comfy bench. Surrounded by downed wood and tall trees, this spot offers many opportunities to view a wide variety of bird species. All types of woodpeckers and flickers love dead snags for the delicious buffet of grubs and other bugs. The hills off in the distance to the northwest were a prescribed fire that burned in 2015. Prescribed fire is an important part of our management plan. Amongst many other benefits, fires produce more snags for flickers to feast and other birds to nest.
Visible Vegetation: Ponderosa Pine, Chokecherry, Goldenrod
Possible Animal Habitat:
Mammals: Bison, Elk, Mule Deer, White-tailed Deer, Coyote, Mountain Lion, Hayden's Shrew, Porcupine
Birds: Northern Flicker, Hairy Woodpecker, Western Wood-peewee, Plumbeous Vireo, Red-breasted Nuthatch, Spotted Towhee, Chipping Sparrow, Western Meadowlark, Red Crossbill
Geology: The Rankin Ridge quartzite is ancient metamorphic schist and one of the oldest in the Black Hills. It is over 2 billion years old. Mixed in are various kinds of mica. The clear types were once used as oven windows.
For Educators:
Thematic Information: This stop is a great spot to bring up how somethings that may look "ugly" to us (i.e. dead trees) can actually be completely necessary to other creatures.
Recommended Student Activity:
Have students explore the photo and ask questions such as:
Where are some good places for an animal to make a home?
What kinds of adaptations would be useful to survive in this habitat?
Is this a better habitat for birds than the last station?