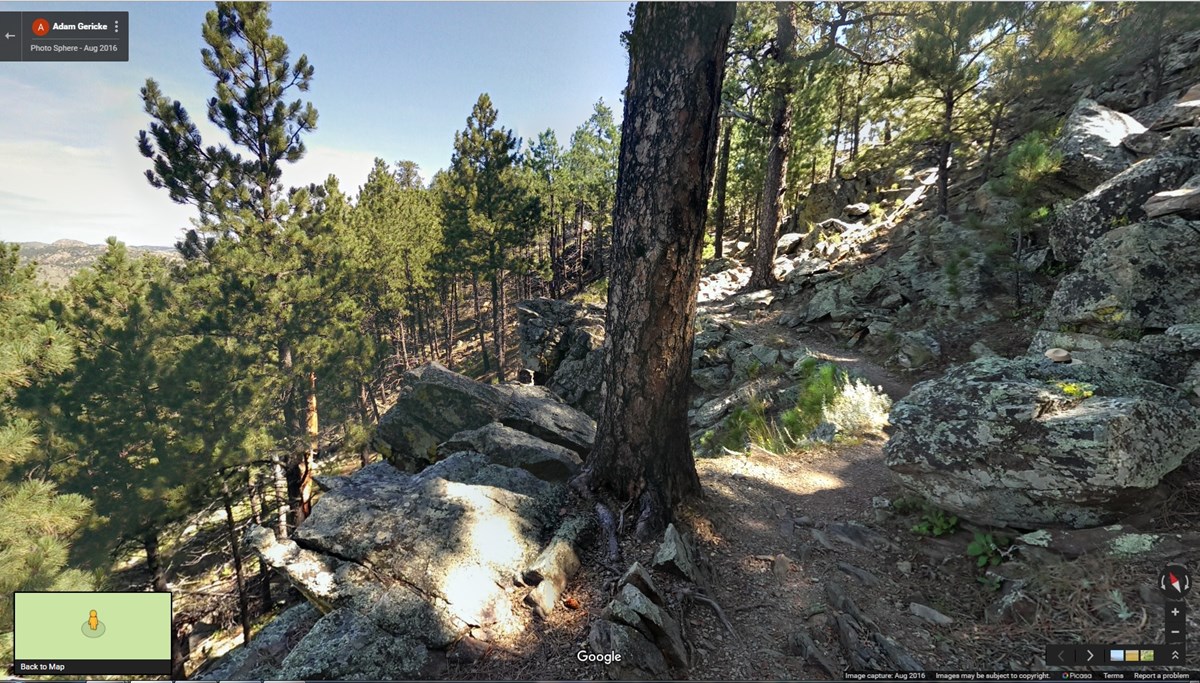 Area Description: As you continue on this shady trail, you soon come upon a small, but beautiful boulder field. This is a great moment to appreciate the stunning and varied geography of Wind Cave National Park. Also worth discussing is the explosion of color the lichen put on in this area. From the neon lime green, to the soft blue green that blends in with the local sage, these lichen can be found in abundance all over the park. These lichens are important for another reason. Due to their sensitivity to air pollution, lichens are seen as a sign of very clean air. As the interpretive station up on the top of Rankin Ridge states, Wind Cave is a Class 1 Airshed which is the cleanest designation possible.
Visible Vegetation: Cudweed Sagewort, Poison Ivy, Ponderosa Pine
Possible Animal Habitat:
Mammals: Bison, Elk, Mule Deer, White-tailed Deer, Coyote, Mountain Lion, Porcupine
Birds: Mourning Dove, American Crow, American Robin, Audubon's Warbler, Western Tanager, Spotted Towhee, Chipping Sparrow, Western Meadowlark, Brown-headed Cowbird
Geology: The Rankin Ridge quartzite is ancient metamorphic schist and one of the oldest in the Black Hills. It is over 2 billion years old. Mixed in are various kinds of mica. The clear types were once used as oven windows.
For Educators:
Thematic Information: Here is a good place to start talking about conservation. National Parks belong to everyone and it's everyone's responsibility to take care of them.
Recommended Student Activity:
Ask the students who owns a National Park. The students? Parents? Rangers? Everyone!
Have students talk about what would happen if everyone that walked on this trail, picked up a rock and took it home.
Ask kids to come up with ideas on how they can help protect National Parks either during a visit or from home.