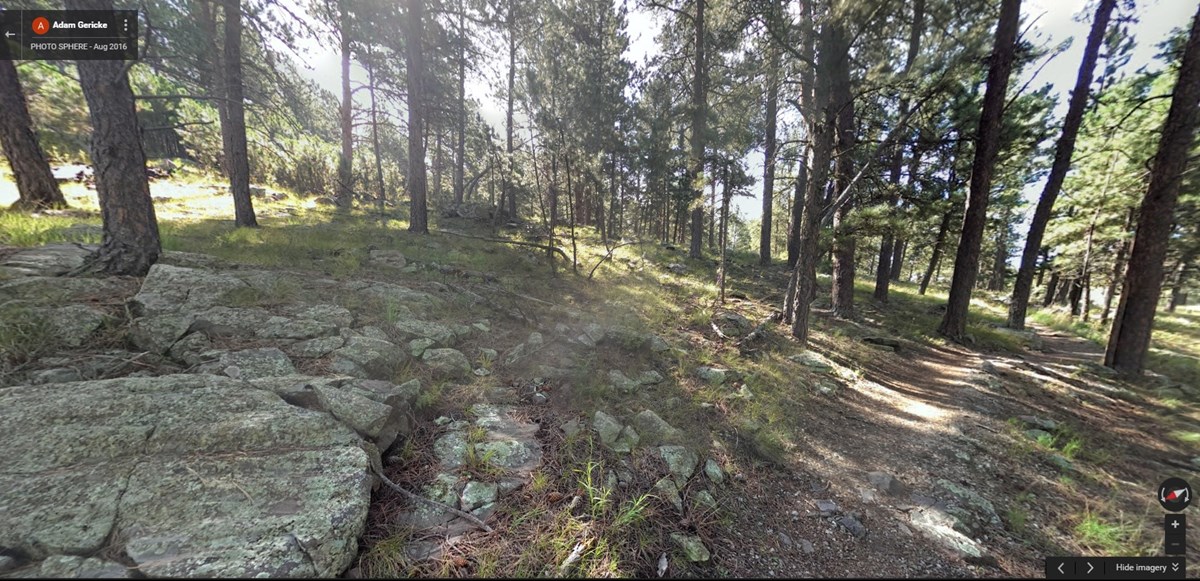 Area Description: This hike is truly one of the jewels of Wind Cave. It is a short, less-than-a-mile hike that goes up to the highest point in the park. It leads you through ponderosa pine forest and rock outcroppings up to one of the most spectacular views of the park.
Visible Vegetation: Ponderosa Pine, Goldenrod, Currant, Oregan Grape
Possible Animal Habitat:
Mammals: Bison, Elk, Mule Deer, White-tailed Deer, Coyote, Mountain Lion, Hayden's Shrew, Porcupine
Birds: Northern Flicker, Western Wood-peewee, Says Phoebe, American Crow, Black-capped Chickadee, White-breasted Nuthatch, House Wren, American Robin, Spotted Towhee, Chipping Sparrow, Western Meadowlark, Brown-headed Cowbird
Geology: The Rankin Ridge quartzite is ancient metamorphic schist and one of the oldest in the Black Hills. It is over 2 billion years old. Mixed in are various kinds of mica. The clear types were once used as oven windows.
For Educators:
Thematic Information: Welcome to Wind Cave! In these introductory photo spheres we will take a look at the varied ecosystems and themes of Wind Cave National Park. To begin with, in this photo we find ourselves in the middle of a ponderosa pine forest. Most people agree that if you get close to some freshly scratched bark these trees smell just like vanilla.
Recommended Student Activity:
Have students explore the photo and ask questions such as:
What animals do you think live here?
How old do you think those rocks are?
Is this a good habitat for birds and why?