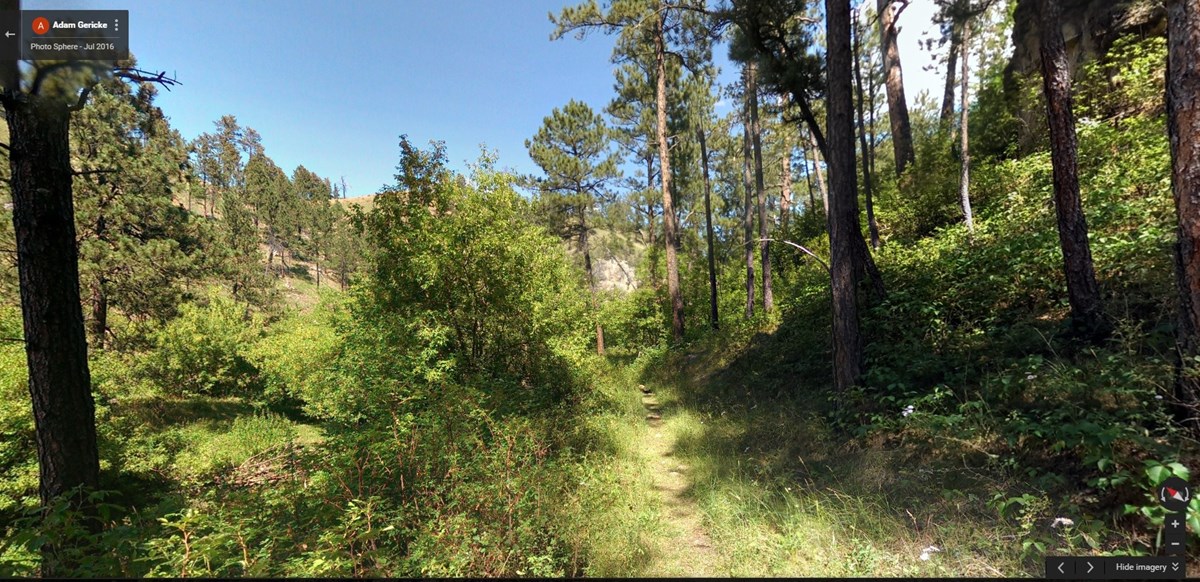 Area Description: As you walk through this lush vegetation, look up at the two limestone sentinels on the hillside. What creatures could be watching you from the top?
Visible Vegetation: Poison Ivy, Ponderosa Pine, Wild Bergamot, Prairie Rose, Box Elder, Yellow Coneflower
Possible Animal Habitat:
Mammals: Bison, Elk, Mule Deer, White-tailed Deer, Coyote, Mountain Lion, Hayden's Shrew, Porcupine
Birds: Mourning Dove, Hairy Woodpecker, Western Wood-peewee, Willow Flycatcher, Cordilleran Flycatcher, Plumbeous Vireo, House Wren, Yellow Warbler, American Redstart, Ovenbird Western Tanager, Spotted Towhee
Geology: Up on the hillside are two Paha Sapa Limestone towers. In other parts of the country this layer of rock is often called the Madison Formation. This limestone formed in the Mississippian age over 330 million years ago. Laid down in a shallow sea, limestone is mostly composed of calcium carbonate. Its coloration ranges from gray to light tan.
For Educators:
Thematic Information: Beaver Creek is the longest of the 3 creeks that enter Wind Cave National Park. During dry years, it can be one of the only sources of water in the park.
Recommended Student Activity:
Compare and contrast the two different sides of the valley.
One is lusher with denser vegetation. The north-facing slope is cooler and home to a wider variety of plants including mosses.
One side gets more sun. The south-facing slope (across the river) has a harsher environment that is hotter and dryer.