The Sink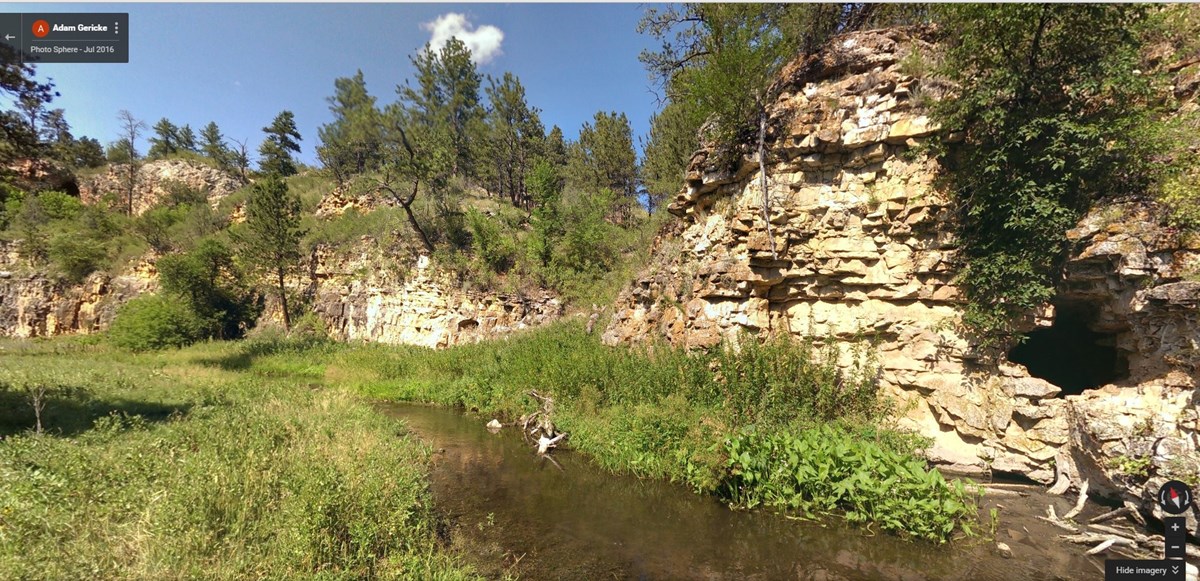 Area Description:This fascinating area is where the rest of Beaver Creek is swallowed up into the earth. To the northeast of the photo, you will notice a hole in the cliff. Below that is where the water rushes underground. And after numerous dye traces, we were hoping the dye would show up in the deepest reaches of Wind Cave. But to no avail. The only place we saw the dye was in the park's well water, directing linking this spot and the water we drink.
A note on trails: The Centennial Trail continues to the north up the hill above the hole where the stream goes. The Highland Creek Trail continues down the valley to the juncture with Lookout Point Trail.
Visible Vegetation: Stinging Nettle, Arumleaf Arrowhead, Box Elder, American Elm, Yellow Coneflower, Rocky Mountain Juniper, Woolly Verbena
Possible Animal Habitat:
Mammals: Bison, Elk, Mule Deer, White-tailed Deer, Coyote, Mountain Lion, Hayden's Shrew, Porcupine
Birds: Turkey Vulture, Mourning Dove, Western Wood-peewee, Eastern Phoebe, Warbling Vireo, Violet-green Swallow, Rock Wren, Eastern Bluebird, American Robin, Yellow Warbler, Audubon's Warbler, Western Tanager, Song Sparrow, Black-headed Grosbeak.
Geology: A truly captivating example of a disappearing stream in a karst landscape. Even though this sinks into the very same rock layer as the cave and is just over 2 miles from the natural entrance to Wind Cave, no trace of any of the dye has ever been recorded inside the cave.
For Educators:
Thematic Information: In wet years, there can be enough of a flow to push the stream past this point and actually flow out of the park. On the flip side, during dry years Beaver Creek can be the only consistent source of water inside the park's boundary.
Recommended Student Activity:
Why is karst landscape more porous than many other types of landscapes?
Karst landscape often has large fractures or pockets of dissolved rock that develop allowing water to directly into aquifers.
How does this affect aquifers below karst landscape?
Pollution can travel much faster in a direct link between the surface and
an aquifer. This puts aquifers that are below karst landscape in great
danger from surface contamination.
Last updated: September 22, 2016