The Valley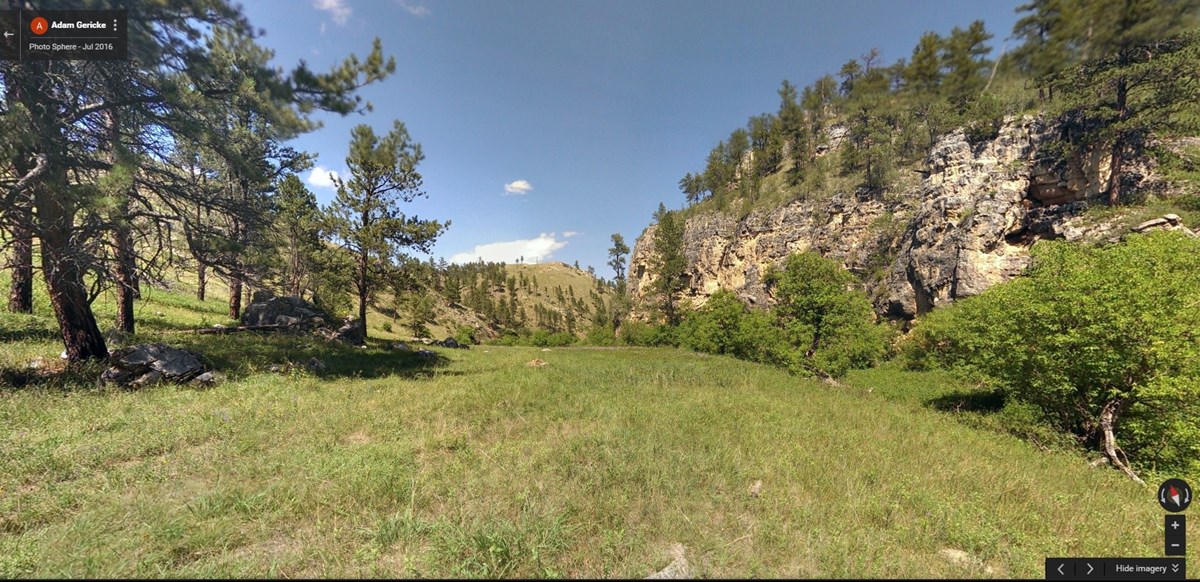 Area Description:This area is the first spot where the walls of the canyon close around you as the canyon narrows. These striking cliffs are home to numerous birds. As the ranger walked through this spot on that day, a Red-tailed Hawk let out a piercing shriek and took off from a nearby tree.
Visible Vegetation: Box Elder, Yellow Coneflower, Ragweed, Woolly Verbena, Wild Bergamot
Possible Animal Habitat:
Mammals: Bison, Elk, Mule Deer, White-tailed Deer, Coyote, Mountain Lion, Hayden's Shrew, Porcupine
Birds: Red-tailed Hawk, Northern Flicker, Western Wood-peewee, Cordilleran Flycatcher, Violet-green Swallow, Black-capped Chickadee, Canyon Wren, House Wren, Ovenbird, Spotted Towhee
Geology: These cliffs are part of the Pahasapa Limestone. This is the same layer of rock that Wind Cave is located in. This spot is only 1.7 miles from the entrance to the cave.
For Educators:
Thematic Information: At this point Beaver Creek begins to slowly sink into the ground. As with most karst landscape the underlying rock is quite porous. Numerous dye tracing studies have been done but no dye from Beaver Creek has ever been found in the cave (or anywhere else). We simply do not know where the water goes after it sinks into the ground.
Last updated: September 21, 2016